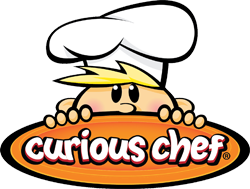 Elroy, WI (PRWEB) December 08, 2014
Curious Chef, a company that strives to help kids learn to love cooking early in life through their kid-friendly kitchen tools, recently won the highest honor given by Interactive Media Awards (IMA) in the kids category for their recently redesigned website. The e-commerce website ranked high in all five scoring areas: design, content, feature functionality, usability and standards compliance.
The Interactive Media Awards is an awards program that has been running since 2006 and each year honors the best website designs in a multitude of categories throughout the year. The Best in Class award is given to websites that showcase the finest in planning, execution, and overall professionalism. This high distinction is earned by only a small fraction of websites in the IMA competition every year. There were a total of 55 entries in the kids category this year, with Curious Chef the only one earning the Best in Class award currently on the website.
Curious Chef is honored to be a recipient of IMAs Best in Class Award and really love the design, vision, and function of our website, said Mike Marchewka, national sales director for Curious Chef. Our company has worked hard to make cooking fun for kids with our easy-to-use kitchen tools and were happy to see that messaging translated online as recognition for our unique, kid-friendly product line.
In addition to offering all of their products for sale online on the redesigned website, the Curious Chef site also has kid-friendly recipes and an updated blog filled with ideas that range from family-friendly activities to healthy eating tips and the importance of teaching kids about nutrition. The website was redesigned by Fruition Internet Marketing.
While most kitchen products for kids are toy-like in design and function, Curious Chefs products hold a unique selling proposition as being real cooking tools that kids can use to help out in the kitchen. The companys kitchen gadgets have been heavily tested and researched, so they are guaranteed to be safe in the kitchen on little hands. Their line is also BPA free.
Curious Chef is a branded line of Tailor Made Products, Inc., which provides safe and unique kitchenware and home products to their customers. TMP also recently launched another brand line called Crisp, which is a collection of exclusive fruit and vegetable preparation tools and kitchen gadgets made for adults who love to cook.
For more information about Curious Chef, please visit their website.
For more information on Fruition, visit their website.
About Curious Chef/ Tailor Made Products, Inc.

Curious Chef aims to inspire the love of cooking in kids by providing fun, safe, easy-to-use, and appropriately sized kitchen tools for ages 5 and older. Curious Chef