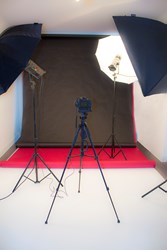 Montreal, Quebec (PRWEB) October 17, 2013
After 10 months of helping curvy women around the world to feel and look their best, the addition of a photography studio was a natural progression for the plus size fashion blog Curves & Style. Now, in addition to offering great insights and tips, C&S will be able to generate more alliances with other plus size designers and brands interested in being part the plus size fashion industry.
The plus size fashion industry saw a massive growth in 2013. Many new plus size designers and brands are giving their very best to help plus size women look great.
Fashion shows also started including plus size models and many of the high end designers have begun to make their pieces bigger, with some actually going up to size 20.
The plus size fashion blog Curves & Style wanted to be able to consolidate alliances with several plus size fashion designers and brands. This goal was achieved by the acquisition of its new studio.
We want to be part of the movement, that is, the inclusion of the plus size woman into the fashion industry. The limitations of renting a studio is now a thing of the past as we have acquired our own studio said Christophe Wiart, the art director of Curves & Style.
We have been contacted by so many brands who are interested in showing their participation in the plus size industry. It will be great to be able to help more of them to spread the word added the plus size model and blogger Elaine Wiart.
The studio is ready to start work and this plus size fashion blog promises to be on during this upcoming season.
Curves and Styles is now open to alliances with more designers and brands in the industry. Offering the following advantages:

New studio with great quality equipments;

Professional photographer;

Plus size model with over 5 years experience;

New team working on Search Engine Optimization (SEO) in order to get better exposure;

Flexibility to travel anywhere in the world for very low fee;

Working team in 4 different languages: English, French, Spanish and Portuguese.
To find out the latest buzz and inside scoops, visit http://curvesnstyle.com