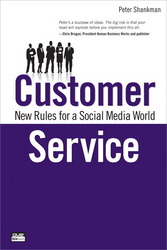 Indianapolis, IN (PRWEB) January 14, 2011
Customer Service: New Rules for a Social Media World, new from Que Publishing, is a practical guide for professionals who want to create stellar customer service through social media, and, at the same time, generate an army of dedicated fans who will offer support in both good times and bad.
Written by Peter Shankman, recognized worldwide as a leading innovator in social media, PR, marketing, advertising, creativity, and customer service, and founder of Help a Reporter Out (HARO), Customer Service is a realistic tutorial designed to engage readers with simple, straight-to-the-point facts and techniques they can understand and immediately apply.
News Facts

Customer Service is part of Ques Biz-Tech series, designed for executives and marketers to gain skills in emerging technologies for their business needs
Readers will learn to organize a small, powerful social media team on a tight budget; choose online media that makes the most sense for them; earn their customers loyalty, trust and credibility; learn from other companies viral disasters; and rebuild their credibility after taking a public hit online
Every day, HARO brings nearly 30,000 reporters and bloggers, over 100,000 news sources and thousands of small businesses together to tell their stories, promote their brands and sell their products and services
The book is available in print and eBook formats through book retailers, Safari Books Online subscription, and Que Publishing
Access free sample chapter Before the Explosion: Winning Your Customer
The suggested retail price for the book is $ 19.99 U.S.
About the Author

An entrepreneur, author, speaker, and worldwide connector, Peter Shankman is recognized worldwide for radically new ways of thinking about social media, PR, marketing, advertising, creativity, and customer service. He is best known for founding Help A Reporter Out (HARO), which in under a year has become the de-facto standard for thousands of journalists looking for sources on deadline, offering them more than 125,000 sources around the world looking to be quoted in the media. HARO is currently the largest free source repository in the world, sending out over 1,500 queries from worldwide media each week. In addition to HARO, Shankman is the founder and CEO of The Geek Factory, Inc., a boutique marketing and PR strategy firm located in New York City, with clients worldwide. His blog (http://www.shankman.com), which he launched as a website in 1995, both comments on and generates news and conversation.
About Pearson

The worlds leading learning company, Pearson is home to such respected brands as Addison-Wesley Professional, Cisco Press, Exam Cram, IBM Press, Prentice Hall Professional, Que, and Sams Publishing, which have as their online publishing arm, InformIT -The Trusted Technology Learning Source. In addition, Berkeley-based Peachpit, the publishing partner for Adobe Press, Apple Certified, and others, publishes best-selling books for creative design professionals. Pearson is also co-founder, with O'Reilly Media Inc., of Safari Books Online, the premier on-demand digital library providing thousands of expert reference materials through a single point of contact, including expert technology, creative and design, business and management resources in video and text formats. Que is part of Pearson (NYSE: PSO), the worlds leading learning company.
Media Contact:

Lisa Jacobson Brown, Publicist

Pearson

(317) 428-3575

Lisa.jacobson-brown(at)pearson(dot)com
# # #