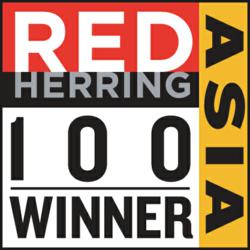 Bangalore, Karnataka (PRWEB) September 14, 2012
CustomerXPs, the real-time intelligent software product company serving global Tier 1 Banks, is proud to be selected as a winner of the 2012 Red Herring's Top 100 Asia Award, a prestigious list honoring the most promising technology ventures from Asia – celebrating these startups innovations and technologies across their respective industries.
CustomerXPs was selected as a winner from hundreds of companies across the telecommunications, security, software, hardware, biotech and mobile industries that underwent a rigorous selection process before presenting its winning strategies at the Red Herring Asia Forum in Hong Kong on Sep 12, 2012.
Red Herrings Top 100 Asia list has become a mark of distinction for identifying promising new companies and entrepreneurs. Red Herring editors were among the first to recognize that companies such as Facebook, Twitter, Google, Yahoo, Skype, Salesforce.com, YouTube, and eBay would change the way we live and work.
CustomerXPs, the real-time intelligent software product company creates real-time, intelligent products to empower Banks, Retail and Telecom Enterprises. For details please visit http://www.customerxps.com/. CustomerXPs' Clari5 software is a real-time intelligent solution that empowers banks with instant insights enabling influenced outcomes for deeper customer engagement and fraud-free transactions. Clari5 identifies and solves, in real-time, complex problems in the areas of customer experience management, contextual right-sell, fraud analytics, monitoring and compliance http://www.CustomerXPs.com/Clari5/
Speaking on the occasion, Rivi Varghese, CEO of CustomerXPs said, "It is indeed a great honor to be named as a winner of such an influential award. We are in a very exciting growth phase now with our fourth win, a large new-generation private sector Bank that has also just decided to go with CustomerXPs Clari5 solution. Clari5 solution will now cumulatively address about 90 Million end customers between 4 Big Banks in India. This in effect means that Clari5 solution will, in real-time, analyse and interpret about 90 Million customers transactions. We are proud to have a dominant position among innovative Tier 1 Banks and we are looking at replicating this success in new markets. Disruptive real-time intelligence Big Data solutions like CustomerXPs Clari5 provide businesses with the ability to analyze and interpret every transaction in real-time. This provides companies with large customer base (like banks, telecom, retail) the ability to predict in real-time and to configure their entire businesses around every individual customer during the short window of the transaction itself. Today, through Clari5 these Tier 1 banks are already interpreting every transaction in real-time at scales unheard off. We believe that our customers too will be winning end user global awards shortly.
Choosing the companies with the strongest potential was by no means a small feat, said Alex Vieux, publisher and CEO of Red Herring. After rigorous contemplation and discussion, we narrowed our list down from hundreds of candidates from across Asia to the Top 100 Winners. We believe CustomerXPs embodies the vision, drive and innovation that define a successful entrepreneurial venture. CustomerXPs should be proud of its accomplishment, as the competition was the strongest it has ever been.
Red Herrings editorial staff evaluated the companies on both quantitative and qualitative criteria, such as financial performance, technology innovation, management quality, strategy, and market penetration. This assessment of potential is complemented by a review of the track record and standing of startups relative to their peers, allowing Red Herring to see past the buzz and make the list a valuable instrument of discovery and advocacy for the most promising new business models in Asia.
About Clari5 Solution
In todays highly competitive scenario, where Banks are seeing eroding customer loyalty, Clari5 provides much needed relief in the form of personalized, relevant interactions allowing Banks to individualize customer experiences consistently across all channels and communication. A disruptive real-time intelligence product, Clari5 provides businesses with the clarity to analyze and interpret every transaction intelligently and in real-time enabling actionable insights. This capability helps Clari5 to provide full circle value from insight to influence during the customer transaction instantly.
The approach adopted is differentiated because of a multi-disciplinary approach involving artificial intelligence, statistical modeling, neural networks, psychology and behavioral sciences. Combined with bleeding-edge technological capability created ground-up, the software delivers right-time, actionable insights that are unparalleled. For more information, visit http://www.CustomerXPs.com/Clari5
The value provided by Clari5 is different in two aspects:
1. Personalized Banking experiences: Every customer is unique and with Clari5, Banks can now enable customized, personalized and rewarding experiences for their customers.
2. Instant results: The insights and the outcomes are initiated due to a customer transaction and importantly, also completed during the transaction resulting in a drastic reduction in outbound overhead while deepening engagement with customers much more efficiently.
Clari5 offers two solutions one in the area of real-time Customer Experience Management and another in the area of real-time Enterprise Fraud Management.
Madhavi Natukula

CustomerXPs Software Private Limited

+91-80-3221-8294

Email: clari5(at)customerxps(dot)com