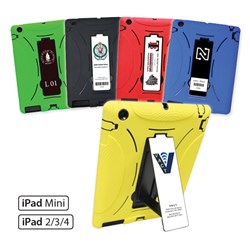 Chicago, IL (PRWEB) August 26, 2013
CBS Atlantas Back to School Gadgets rated iGears Slim Tough Case G2 as one of the best protective iPad cases, calling it "indestructible." With its unique ability to be customized with any artwork, this rugged iPad case is making its way around college and major league sports teams, combining excellent iPad protection with vivid, full color branding.
The second generation Slim Tough Case G2 offers multi-layer protection using a combination of (1) an outer soft rubber shell, (2) a rigid inner polycarbonate hard case, (3) a built-in clear screen protector, and (4) a slim profile thats designed to fit the Bretford charging carts. This case is supremely shock absorbent while giving the user full access at the same time. A built-in, sliding kickstand offers a convenient way to stand the iPad in both horizontal and vertical orientations. Its designed to fit in virtually all popular charging carts, including Bretford, Anthro, Datamation, and others.
In a recent YouTube video, the companys Slim Tough Case was put through a 20-foot drop test, flying from a second floor window to a paved driveway. The iPhone escaped without a scratch while recording video the whole time. See the drop test video here. The same case design and level of protection is used on the iPad cases.
"iGears iPad Slim Tough Case is really slim and really tough its indestructible." says Rick Limpert, technology expert for Examinor.com and CBS Local. "You can drop it, scratch it, and the iPad will not get damaged."
Although many cases on the market offer rugged protection, the Slim Tough Case stands out from the crowd with the ability to be customized with any logo artwork. By using a Tough Skin decal, iGear can personalize each iPad with full-color logo artwork, an asset tracking ID and barcode, and other information for each iPad, making managing multiple devices super easy.
The Slim Tough Case G2 is available from iGearUnlimited.com. Schools, businesses, and sport teams should contact the company directly for bulk discounts.
About iGearUnlimited.com
iGearUnlimited.com is powered by Sunrise Hitek, an Inc. 5000 company established in 1988 and employs the most advanced equipment and technology, such as G7-certified HP Indigo and UV flatbed presses, and digital die-cutting to create best-in-class products. A privately-owned enterprise, the company is based in Chicago and sells products worldwide.