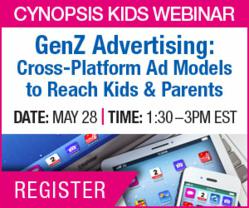 New York, NY (PRWEB) May 10, 2013
Disney, Starcom, Blueplate Media and Pivotal Research Group will present in the upcoming webinar, GenZ Advertising: Cross-Platform Ad Models to Reach Kids & Parents, on May 28 hosted by Cynopsis: Kids! editor Cathy Applefeld Olson. Whether you're in programming sales or ad sales, or are creating transmedia content, Cynopsis Kids and our panel of industry leaders will help you step up your game.
Kara Rousseau (SVP Ad Sales and Marketing at Disney Media Sales & Marketing), Darcy Bowe (Director at Starcom USA), David Becker (President at Blueplate Media) and Brian Wieser (Analyst at Pivotal Research Group LLC), will share best strategies for maximizing ad sales and sponsorship across platforms, and best practices for working with kids content creators to tout your brand.
During this information-packed 90-minute webinar, attendees will learn how to: