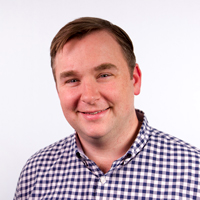 Wellesley, MA (PRWEB) December 02, 2014
d50 Media, an integrated, multi-channel acquisition agency, today announced the new appointment of Jay Haverty as Chief Executive Officer. The company's former President, Monica Sullivan, is departing d50 Media to pursue another opportunity.
Mr. Haverty brings more than 14 years of experience spanning marketing, technology, and operations. Prior to joining d50 Media, Mr. Haverty worked as Chief Operating Officer at Sokolove Law, where he was responsible for modernizing consumer acquisition channels and managing a high consideration sale- oriented call center. Mr. Haverty's background includes Accretive, LCC, a New York-based private equity firm; Celsius Capital, a Shanghai-based venture capital firm; Mercer Oliver Wyman, and Credit Suisse First Bostons Technology Group corporate finance team.
Since 2011, Mr, Haverty has served as d50 Media's COO. He brings an in-depth knowledge of the agency's strengths, unique capabilities and insights for new growth opportunities. Mr. Haverty has been instrumental in building the firm's core business and ensuring consistent execution of client campaigns, both online and offline.
Mr. Haverty will continue leading a high-growth, dynamic organization while supporting the further expansion of the business.
"Having Jay fully dedicated to d50 Media is a huge asset to us," says Dan Diamond, Director of Media Operations. "No one has more knowledge of integrating marketing and operations on the client side than Jay."
"Jay's leadership will create new opportunities for us to unlock our agency's potential. We have many internal experts on staff. With Jay's vision, we will be able to work together in more meaningful ways," says Eric Lander, associate director of digital media. "As a result, d50's multi-channel approach will shineand that will really differentiate us in this competitive marketplace."
d50's agency expertise focuses on five key areas of acquisition marketing: Paid Digital Advertising, Direct Response TV, Media Buying, Cross-Channel Analytics, and Creative Services.
In recent months, d50 Media was honored as a finalist at The Ad Club's Media Maven awards in three categories.
"Its an exciting time to be at the helm of d50 Media," says Mr. Haverty. "We have built a team of experts in their respective fieldsand together, we are poised to take full advantage of this competitive edge while providing unique services for our clients. As we look ahead to 2015, youll want to keep an eye on us."
Mr. Haverty graduated with honors from the Jerome Fisher Program in Management & Technology at with a Masters in Telecommunications Engineering from the Engineering School, and a Bachelor of Science in Systems Engineering from the Engineering School and a Bachelor of Science in Economics from the Wharton School.
About d50 Media

d50 Media is the leading integrated, multi-channel acquisition agency specializing in Direct Response TV (DRTV) / Media Buying, Cross-Channel Analytics, Search Engine Marketing (SEM / PPC), Landing Page Design & Development, Search Engine Optimization (SEO), Video and Content Creation Optimization & Distribution. d50 Media helps clients win in Acquisition and Activation marketing by leveraging both traditional and digital media, including mobile platforms, to find target customers more efficiently. We drive measurable results to help our clients win in highly competitive categories, where sometimes winning means finding "needles in haystacks," or just a small audience for a specific product or service. For more information, please visit http://www.d50media.com.
###