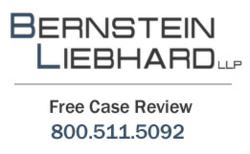 New York, New York (PRWEB) May 24, 2013
The nations first trial of a da Vinci lawsuit involving Intuitive Surgical Inc.s da Vinci Surgical System concluded yesterday, Bernstein Liebhard LLP reports. According to court records, a Washington State Court jury ruled in a 10-to-2 decision that Intuitive had not committed negligence in training a surgeon who performed a da Vinci prostatectomy on a patient who died several years later. The patients family had alleged in their lawsuit that the da Vinci complications he suffered in that procedure hastened his death from heart failure. (Estate of Fred E. Taylor v. Intuitive Surgical Inc., 09-2-03136-5, Superior Court, State of Washington, Kitsap County (Port Orchard))
This is, of course, a disappointing verdict. However, we believe it will ultimately prove to be an anomaly based on the unique facts of this case, and are encouraged that two jurors favored the Plaintiffs. We remain confident that other da Vinci lawsuit trials will have much different outcomes, says Bernstein Liebhard LLP, a nationwide law firm representing the victims of defective drugs and medical devices. The Firm is currently offering free legal evaluations to individuals who allegedly suffered serious da Vinci complications, including organ perforations, lacerations, blood vessel tears, and surgical burns, in procedures involving the da Vinci Surgical System.
Da Vinci Robot Lawsuits
According to a May 22nd report from Bloomberg.com, the just-concluded trial was one of 26 da Vinci lawsuits that have so-far been filed in courts throughout the country, though many more filings are expected. The patient at the center of the trial suffered a series of complications during prostate surgery in 2008, and died of heart failure last August. His family had alleged that Intuitive watered down its training programs in order to drive sales of the da Vinci robot. Among other things, the family claimed that Intuitive was negligent when it recommended that a single day of training at its headquarters and two supervised operations would allow surgeons to become proficient on the da Vinci.* Bloomberg.com reported on March 21st that emails disclosed ahead of the trial included one in which an Intuitive manager praised a salesperson for persuading a hospital that five supervised operations were too many. In yet another, an Intuitive sales team was told by their manager not to let proctoring or credentialing get in the way of meeting goals on the number of robot surgeries. For its part, Intuitive strongly denied any suggestion that its training programs were manipulated to meet sales goals, and placed the blame for the patients injuries on his surgeon **
Court filings indicate that Intuitive already settled a da Vinci complication lawsuit earlier this year. According to a notice entered in the U.S. District Court, Eastern District of Louisiana on March 14th, the company resolved a claim filed by a woman who was allegedly injured during a robot-assisted thyroid procedure. (Silvestrini v. Intuitive Surgical Systems Inc., No. 11-2704 (E.D. La.)
Victims of alleged da Vinci complications may be entitled to compensation for medical expenses, lost wages, pain and suffering, and more. Information about filing a da Vinci robot lawsuit is available at Bernstein Liebhard LLPs website. For a free, no-obligation case evaluation, please call 800-511-5092 today.
*bloomberg.com/news/2013-05-23/intuitive-wins-trial-defeats-negligent-training-claims.html

** bloomberg.com/news/2013-03-21/intuitive-robosurgery-training-seen-lacking-in-lawsuits.html
About Bernstein Liebhard LLP

Bernstein Liebhard LLP is a New York-based law firm exclusively representing injured persons in complex individual and class action lawsuits nationwide since 1993, including those who have been harmed by dangerous drugs, defective medical devices and consumer products. The firm has been named by The National Law Journal to the Plaintiffs Hot List, recognizing the top plaintiffs firms in the country, for the past 10 consecutive years.
Bernstein Liebhard LLP

10 East 40th Street

New York, New York 10016

800-511-5092
ATTORNEY ADVERTISING.