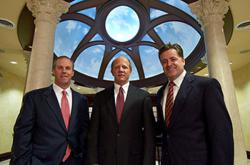 St. Louis, MO (PRWEB) March 15, 2013
The Onder Law Firms attorneys handling medical device and pharmaceutical injury claims are currently investigating cases of injury and death resulting from a da Vinci Surgical System robot surgery. The da Vinci Surgical System, manufactured by Intuitive Surgical, Inc., has been the subject of multiple robotic surgery injury lawsuits (Superior Court of Washington, No. 09-2-03136-5; United States District Court, Northern District of Alabama, Case 7:12-cv-01082-LSC). The Intuitive Surgical da Vinci surgery robot is used to perform laparoscopic procedures such as hysterectomy and prostate surgery, during which an untold number of people may have experienced severe complications. The robotic surgery injury attorneys at The Onder Law Firm are evaluating cases in which complications were severe enough to require use of traditional surgery to complete the procedure or even one or more subsequent surgeries to correct the problem it may have caused.
Surgery robots, which are robotic devices with multiple arms controlled by a surgeon, are growing rapidly in use. A Los Angeles Times article in 2011 (articles.latimes.com/2011/oct/17/health/la-he-robotic-surgery-20111017) reported that the da Vinci surgery robot is in 2,000 hospitals. The article questioned the benefits of surgery robots over laparoscopic surgery for the patient, citing a surgeon at the Johns Hopkins University School of Medicine.