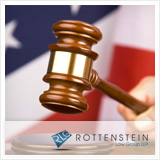 (PRWEB) April 23, 2013
A marketing executive for da Vinci Surgical Robot manufacturer Intuitive Surgical testified on April 18, during a da Vinci trial in Washington State, that the company targeted surgeons with basic or rudimentary skills in minimally invasive procedures as a way to boost profits.* The Rottenstein Law Group, which maintains a website on da Vinci robot lawsuits that provides news updates and a comprehensive look at side effects and how to file a suit, will be monitoring this case to keep updated those who believe they or their loved ones suffered harm from a robotic surgery.
In his testimony, Director of Marketing Ryan Rhodes testified about a surgical target list. The document, according to Bloomberg, indicated that 80 percent of marketing efforts should be dedicated to urologists with basic or limited laparoscopic skills and who currently perform traditional removals of the prostate. The implication, Rhodes said responding to a lawyers question, was that more advanced surgeons would be less interested in the da Vinci.
If this testimony is true, it shows a clear example of pursuing profits over the safety of patients, said Rochelle Rottenstein, principal of the Rottenstein Law Group. Breakthroughs in medical technology are important, but its also important to keep in mind that the mission is to heal and not potentially harm.
This is the first da Vinci case (Estate of Fred E. Taylor v. Intuitive Surgical Inc.; no. 09-2-03136-5, Superior Court, Port Orchard, Wash.) in the nation to go to trial. The family of Fred Taylor is suing Intuitive, alleging that Taylors eventual death was the result of complications associated with a prostate removal procedure conducted by an inadequately trained surgeon who used the da Vinci, according to Bloomberg.** Intuitive Surgical asserts that it is fully committed to superior training opportunities for surgeons and surgical teams in the use of its products, but notes that it does not participate in determining when a surgeon is adequately prepared to operate using the da Vinci Surgical System.
According to USA Today, the da Vinci surgical robot was used in about 400,000 surgeries in 2012.**
The Rottenstein Law Group, which represents clients who believe they have been harmed by the da Vinci robotic surgical system, encourages people to visit this page to download a free brochure to help them determine if they have a case.
*bloomberg.com/news/2013-04-18/intuitive-marketed-robot-to-limited-skill-surgeons-witness-says.html

**bloomberg.com/news/2013-04-15/intuitive-s-first-robot-surgery-trial-to-probe-training.html

***usatoday.com/story/news/nation/2013/04/09/robot-surgery-fda/2067629/
About THE ROTTENSTEIN LAW GROUP

The Rottenstein Law Group is a New York-based firm that represents clients nationwide in mass tort actions. The firm was founded by Rochelle Rottenstein, who has more than two decades of experience as a lawyer, to represent clients hurt by defective medical devices. (Attorney advertising. Prior results do not guarantee a similar outcome.)
Contact:

The Rottenstein Law Group, LLP

Rochelle Rottenstein, Esq.

321 W. 44th Street

# 804

New York NY 10036

(212) 933-9500 (office phone)

(212) 933-9980 (facsimile)

rochelle (at) rotlaw (dot) com