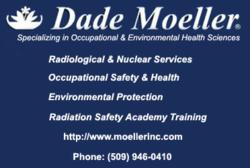 Richland, WA (PRWEB) November 29, 2011
U.S. Department of Energy contractors Dade Moeller and EnergX announce their new partnership, aimed at meeting the demand for high-quality industrial hygiene and occupational safety training across the country. The collaboration promotes seven courses offered at shared facilities in Oak Ridge, TN; Gaithersburg, MD; Las Vegas, NV; and Richland, WA.
The forward-thinking partnership arose from a mutual respect for each others expertise, experience, and reputation, as well as a shared commitment to excellence. By pooling their faculty, facilities, and marketing resources, Dade Moeller and EnergX can expand their client bases while keeping costs to students low.
Partnering with EnergX makes good business sense, said Dade Moeller President David McCormack. EnergX is well respected in Oak Ridge, where we currently are expanding, as well as here locally at Hanford, and, by working together, we will positively impact each others breadth and depth.
By leveraging Dade Moellers solid reputation, we will reach new customers with our well-honed worker safety courses, said EnergX President and CEO Anthony Buhl. We are pleased to partner with a company that shares our vision for ensuring capable, qualified, safety-minded workforces.
Detailed in the Dade Moeller Training Academys 2012 Course Catalog, mailed this month to more than 27,000 recipients, Dade Moeller and EnergX offer jointly the following training courses in 2012:
Industrial Hygiene Fundamentals for Non-Industrial Hygienists: For safety, health, and environmental professionals or managers with Industrial Hygiene responsibilities but limited training or experience. (May 1418 Richland; September 1721 Las Vegas)
Accident Investigation: For those responsible for conducting investigations of workplace accidents and events. (March 2628 Oak Ridge; May 1416 Las Vegas; June 46 Richland; August 68 Gaithersburg)
Process Safety Management/Risk Management Planning: For safety, maintenance, operations,and environmental professionals who have a system regulated by the Occupational Safety and Health Administrations (OSHA) Process Safety Management Rule or the Environmental Protection Agencys Risk Management Programs Rule. (September 1013 Richland; November 1215 Las Vegas)
Construction Safety University: For those seeking the OSHA 10-Hour Construction Card.(March 1316 Las Vegas; April 1720 Oak Ridge; August 2124 Gaithersburg; October 1619 Richland)
General Industry Safety University: For those seeking the OSHA 10-Hour General Industry Card.(March 1922 Las Vegas; April 2326 Oak Ridge; August 2730 Gaithersburg; October 2225 Richland)
Specializing in Occupational and Environmental Health Sciences National Fire Protection Association (NFPA) 101