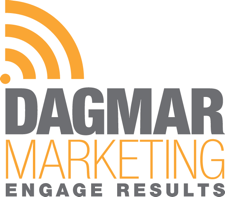 Jacksonville, FL (PRWEB) May 01, 2013
DAGMAR Marketing, a digital marketing agency specializing in search engine optimization (SEO), pay-per-click (PPC) advertising and online marketing strategies, is proud to announce that Managing Partner Joe Hunt was named "Top Gun" in the Market Motive certification course, Pay Per Click Advertising. This is a 12-week intensive course designed to teach certification candidates to manage campaigns more effectively, build better ads and employ best practices in PPC economics and customer psychology. Hunt's successful completion of the course designates him as a Market Motive Certified Master in PPC. The certification is recognized industrywide.
Market Motive offers training and certification in web analytics, conversion optimization, SEO, social marketing, paid search and online PR. The PPC training course was taught by industry expert Brad Geddes, author of "Advanced Google Adwords" and founder of CertifiedKnowledge.org.
"This is a great professional achievement for Joe and DAGMAR," said Managing Partner Chris Gregory. "It also reinforces our commitment to provide our clients with the best possible guidance in putting their online marketing dollars where they can yield the best returns."
PPC allows very precise targeting of messages as well as quick benefits relative to most forms of online marketing. According to Hunt, "Clients can see their companies get to the first page of search results in just a matter of days with a well-run PPC campaign. SEO performance is just as important, but it can take longer for optimization efforts to push a company's online presence to the top compared to PPC advertising. PPC ads can be targeted geographically and even down to a certain time of day."
Hunt advises that any company with a marketing budget should put PPC to work, pointing to its advantages for businesses of all sizes. "It really levels the playing field. Even if you're in a small cottage industry, you can compete against anyone, anywhere with a solid PPC strategy. Best of all, you can tie PPC budgets directly to results. It's clearly measurable, so you will always know exactly what your ROI is on a PPC campaign," he adds.
In 2012, Hunt joined the company from Sargent Cycle, a manufacturer of premium after-market motorcycle seats, where he was marketing manager. He has broad experience in marketing and has been a creative and art director for advertising agencies, online advertising manager for a software development firm and publication manager for an online business directory publisher. At DAGMAR, he focuses on online marketing and Google AdWords strategy and analysis.
About DAGMAR Marketing

DAGMAR Marketing is a digital marketing agency that helps its clients maximize their online marketing investments with data-driven, measurable results. The firm specializes in search engine optimization (SEO) in Jacksonville, Florida, as well as Google AdWords, online reputation management, inbound marketing strategies, content development and more. For additional information, visit http://www.dagmarmarketing.com.