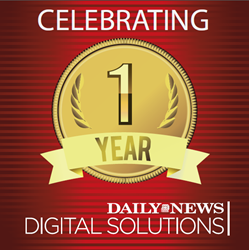 New York, NY (PRWEB) October 01, 2013
In one year, Daily News Digital Solutions (DNDS) has managed to grow immensely into a company of over 50 employees with a constant need for more manpower. They have also signed many new active partners and clients who benefited from their services.
Peter Wojcicki, Director of Sales, said, Our main focus was demonstrating to business owners the results they can achieve by delivering a consistent message across multiple online marketing channels.
New technologies are always emerging and continuously evolving. Daily News Digital Solutions keeps pace with evolution to stay on top of the technology by offering Responsive Web Designs, Mobile Websites, SMS Text Marketing, Facebook Display Advertising, Reputation Management, SEO, SEM, Video, Press Releases and much more.
Michael Flaminio, Vice President, said, Our goal is to continue educating businesses by participating in local events with the chambers of commerce, non-profits, colleges and other various business groups.
It is important for all businesses to promote themselves and show a strong online presence but it is critically important for small and medium businesses. Daily News Digital Solutions can help customize internet marketing solution so the content is fresh, informative and responsive to all mobile platforms.
For more information about how Daily News Digital Solutions can help small businesses, please contact AKwoka(at)DailyNewsDigital(dot)com or visit their website at http://www.DailyNewsDigital.com.
About the company:
Daily News Digital Solutions hosts a comprehensive Internet marketing service in New York and New Jersey that works to organize, establish, and manage the web presence of a variety of clients and businesses in the New York/New Jersey metropolitan area. By utilizing industry-leading techniques and fresh research, Daily News Digital Solutions Internet marketing services benefit from a cutting edge approach that is dynamic and effective. Customers will see their web presence swell from a campaign that utilizes multiple platforms of Internet marketing including: web design, search engine marketing, search engine optimization, email targeting, press releases, social media, reputation management, mobile and more.