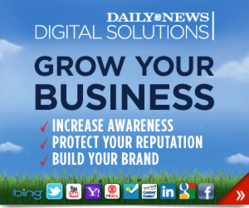 New York, NY (PRWEB) April 02, 2013
Daily News Digital Solutions (DNDS) is proud to announce that it is experiencing rapid growth in both annual revenue and its customer base. Building on the respected New York Daily News brand, Digital Solutions is actively being engaged by the small and medium businesses that drive the economy of the New York/New Jersey Metropolitan area.
In an effort to meet the growing demand for its online strategies and digital product suite, the organization is on track to increase its current roster by adding on additional Digital Consultants. Daily News Consultants are highly knowledgeable, Google AdWords-certified digital media professionals, and go through an extensive, ongoing training process to make sure that small and medium businesses in the NY/NJ area are being consulted by the best and brightest in the industry.
According to Michael Flaminio, Vice President – Digital Solutions, "Our Digital Consultants have done a superb job in expanding our customer base not only by educating businesses on the vital importance of having a strong online presence, but also by representing the New York Daily News, trusted by New Yorkers for over 90 years. Businesses know that when they partner with us, they are partnering with an organization that wants to see them succeed".
Daily News Digital Solutions is already working with hundreds of small and medium-sized businesses, who have become aware of the necessity of incorporating internet strategies in today's evolving advertising market.
Flaminio also stated that the account management team will be increasing in size to support these new customers, who are eagerly coming on board looking to expand their marketing into new media.
Much of the success experienced by Daily News Digital Solutions can be attributed to its consultative approach; something the organization believes sets them apart from their competitors. They offer a full range of products to help with Web Design, Search Engine Optimization, Search Engine Marketing, while providing strategies for Social Media Management, Reputation Management and Mobile just to name a few of the comprehensive strategies in their suite.
DNDS also works with top tier internet companies such as Google, Facebook Twitter and Bing/Yahoo!, bringing the best and most sought after products to their customers. So far, this strategy is paying off as DNDS is tracking great results and an excellent return on investment (ROI) for its customers and fully intends to surpass their projected sales goals this year.
On the horizon, DNDS is looking forward to participating in numerous trade shows and community events to educate businesses about the benefits of internet marketing and promoting its innovative and industry-leading product line for digital campaigns.
Recently, DNDS had a great turnout at two of its local community events this year: a Digital Marketing Made Easy event, held in conjunction with the Brooklyn Chamber of Commerce with over 150 small businesses in attendance, and a realtor event in association with the Brooklyn MLS, attended by over 50 independent real estate brokers.
Looking towards the future, Daily News Digital Solutions will be hosting an event along with the Queens Chamber of Commerce and will be participating at the annual Small Business Expo, both in May. For more information on the wealth of products and services offered by Daily News Digital Solutions or to attend one of our events, please visit Daily News Digital Solutions or contact Adam Kwoka.
About the Company:
Daily News Digital Solutions hosts a comprehensive internet marketing service in New York City that works to organize, establish, and manage the web presence of a variety of clients and businesses in the NYC metropolitan area. By utilizing industry-leading techniques and fresh research, Daily News Digital Solutions Internet marketing services benefit from a cutting edge approach that is dynamic and effective. Customers will see their web presence swell from a campaign that utilizes multiple platforms of Internet marketing including: SEO, SMM, Web Design, SEM, Email Targeting and more. When customers count on the experts at Daily News Digital Solutions, theyll have the peace of mind knowing that theyre being backed by the best Internet marketing company in New York City with years of experience and expertise working in all areas of search engine optimization, social media marketing and search engine marketing.