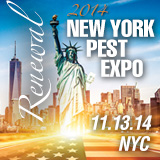 New York, NY (PRWEB) November 05, 2014
Daily News Digital Solutions (DNDS) is partnering with Bug Off Pest Control Center for The New York Pest Expo (The Expo), the largest expo of its kind in New York. On Thursday, Nov. 13 at the Armory Track & Field Foundation in Washington Heights, DNDS, the official media sponsor of the expo, will showcase how Internet marketing strategies can help local pest control companies grow their businesses.
Having the Daily News showcase their digital marketing products at our event is a big win for the pest management community, said Andy Linares, president of Bug Off Pest Control Center.
The New York Pest Expo is one of the largest events for pest management in the United States. Annually, The Expo draws hundreds of pest management professionals and dozens of exhibitors and features nationally-known experts and industry icons as guest speakers offering presentations on every aspect of pest control. The Expo has become the most important one-day event in pest management and has continued to grow in influence and scope since its debut in 2003.
The 2014 "Renewal Edition" promises to be bigger and better than ever with more exhibitors and attendees than in years past. Guests can view exhibits and discuss product features with major manufacturers and business support providers while taking advantage of great promotions and blowout pricing on supplies and equipment.
For more information and to register for The New York Pest Expo visit http://www.bugoffpccenter.com or call 212-781-2304. For more information about DNDS, visit http://www.DailyNewsDigital.com, or call 212-681-3333.
About the company:

Daily News Digital Solutions hosts a comprehensive Internet marketing service in New York and New Jersey that works to organize, establish and manage the web presence of a variety of clients and businesses in the New York/New Jersey metropolitan area. By utilizing industry-leading techniques and fresh research, Daily News Digital Solutions Internet marketing services benefit from a cutting edge approach that is dynamic and effective. Customers will see their web presence swell from a campaign that utilizes multiple platforms of Internet marketing, including web design, search engine marketing, search engine optimization, email targeting, press releases, social media, reputation management, mobile and more.
Bug Off Pest Control Center was founded in New York City in 1987 by Andy Linares. Bug Off is a powerhouse pest management distribution hub and elite training institution. Bug Off offers Everything in Pest Control: supplies and equipment; training programs; special events; an online store; technical back-up; and business support services.