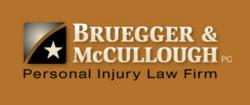 Dallas, TX (PRWEB) May 18, 2011
Dallas, Texas injury law firm of Bruegger and McCullough, P.C. recently launched their website, providing a valuable online legal resource to current and potential clients.
The site offers helpful information to remove some of the fear and uncertainty from the legal process, including basic information on Dallas personal injury laws.
According to Bruegger and McCullough, P.C. partner Michael McCullough, "Our new site is designed entirely with our clients and potential clients in mind. We certainly hope they will use it as a resource to answer their initial questions, and then let us guide them through the legal process personally."
Website visitors learn how the experienced Dallas injury law firm of Bruegger and McCullough, P.C. can assist them with their legal issue. The firm has developed a reputation for maintaining high ethical standards while aggressively representing clients throughout Dallas in personal injury legal matters.
About the Firm

Bruegger & McCullough, P.C. is a firm devoted to the representation of injury victims and their families. Our commitment to our clients is to respond as quickly and carefully as possible to your legal needs. In our experience we know its not just important to respond to your legal needs promptly, its even more important that they be addressed correctly.
If you or a loved one is in need of legal assistance, call the Dallas injury law firm of Bruegger & McCullough, P.C. toll free at (855) 783-9000 or submit the Free Case Review online form. The initial consultation is free of charge, and if we agree to handle your case, we will work on a contingency fee basis, which means we get paid for our services only if there is a monetary recovery of funds.
Bruegger & McCullough PC

9400 N Central Expy., Suite 1305

Dallas, TX 75231

(855) 783-9000
###