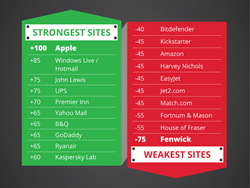 (PRWEB UK) 18 June 2014
Dashlanes second Password Security Roundup examined 60 of the UKs most popular sites in the aftermath of Heartbleed. It found that 80% of these websites had subpar password security policies. Many failed to implement even the bare minimum standard security practices, leaving consumer data across the web dangerously susceptible.
The Roundup was comprised of 22 password criteria that Dashlane identified as critical to password security. Each criterion was given a +/- point value, leading to a total possible score of between -100 and +100. A score of +50 is Dashlanes minimum suggested requirement for good password practices. This study is a broader follow-up to Dashlanes first UK study conducted in March.
Apple had the highest rating and was the only website to receive a perfect score, as they also did in Q1. Hotmail was second, while John Lewis and UPS tied for third. Other sites receiving passing scores included Marks & Spencer, Ryanair, and Yahoo Mail, among others.
Fenwick received the lowest score, while House of Fraser and Fortnum & Mason tied for second worst. Amazon, Harvey Nichols, easyJet, and Match.com were also among the lowest ranked sites. Several sites that store their users credit card information, including TK Maxx and Wilkinson, only required a 5 character password. In fact, Currys allowed users to create new accounts using only the letter a as the password.
Other key findings: