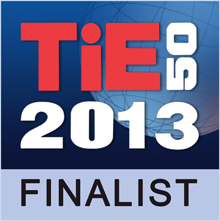 Fairfax, VA (PRWEB) May 09, 2013
DataRPM, the industry pioneer of Natural BI – a disruptive natural language and search based business intelligence platform for Big Data, is among the finalists of the TiE50 2013 Finalists announced by TiE Silicon Valley, the organizer of TiEcon 2013, the world's largest conference for entrepreneurs.
The TiE50 winners will be announced upon further evaluation and review of presentations at TiEcon 2013, to be held on May 1718th, at the Santa Clara Convention Center in Santa Clara, CA.
More than 1,100 companies from 22 countries were screened resulting in 104 world class finalists. The TiE 50 selection process was designed with meticulous planning, screening and judging by a team of prominent entrepreneurs, venture capitalists, corporate executives and other domain experts. Winner awards will be presented on Saturday, May 18, 2013.
Every year billions of dollars are spent globally on business intelligence solutions but most of those implementations fail. The reason for this significant waste is because most of the BI and Analytics today are driven by a canned approach canned dashboards, canned reports and canned data warehouses. DataRPM is well set on its mission to change this by delivering the Holy Grail of BI a revolutionary question-answering and search-based platform for ad-hoc big data analytics & BI on the cloud and on premises for SaaS companies, ISVs and Enterprises.
We are truly honored to be selected as one of the TiE50 Finalists, said Sundeep Sanghavi, Co-Founder and CEO of DataRPM. This selection as one among the top 50 startups of the world is a great recognition of our efforts to change the BI world for good by making data intelligence accessible to every individual via the most innovative and natural data analysis platform built on our patent-pending natural language and search-based analytics technology.
About TiE50 Awards

TiE50 is TiE Silicon Valleys premier annual awards program contested by technology startups worldwide. TiE50 track record since inception in May 2009 shows that 94% of the winners and finalists have been funded, attracting over $ 20 Billion in investments! More than 110 companies have been acquired, merged or went public. Participating technology startups benefit from a vast ecosystem of venture capitalists, angels, and entrepreneurs. Other participant privileges include significant investor exposure, online virtual showcasing and technology and business partnering/networking. For more information, please visit http://www.tie50.net.
About TiE:

TiE is a global not-for-profit organization fostering entrepreneurship through mentoring, education, and networking. We consider entrepreneurship to be the single most powerful instrument to advance global prosperity. Our greatest strength is our network of over 60 chapters in 17 countries with a worldwide membership exceeding 14,000 that includes successful entrepreneurs, venture capitalists, corporate executives, and aspiring entrepreneurs. For more information on TiE, please visit http://www.tie.org.
About DataRPM

DataRPM delivers industry's first natural language and search-based Business Intelligence platform for Big Data on the cloud and on-premises designed for SaaS Companies, ISVs, niche analytics firms and enterprises to offer a unique multi-tenant business intelligence and embedded analytics solution to their customers or internal users. DataRPMs ground breaking computational search technology enables users to mash-up data from any source for real-time ad-hoc analysis with the ability to just ask questions or search and get back results with rich visualizations and interactive capability to slice-dice, drill-down, filter and collaborate in-place among stakeholders to make informed decisions. DataRPM is founded by serial entrepreneurs and technologists and possesses a superb customer adoption rate. DataRPM won the Tech Cocktail Hottest Showcasing Startup in DC in August 2012. For more information, please visit: http://www.datarpm.com.