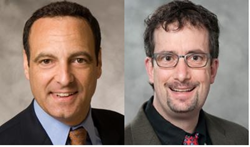 Kansas City, Mo (PRWEB) September 02, 2014
David J. Cohen, M.D., M.Sc., and John A. Spertus, M.D., M.P.H., cardiologists with Saint Lukes Mid America Heart Institute in Kansas City and the University of Missouri Kansas City, have dedicated their professional lives to cardiovascular research, producing innovative and impactful science that has defined and shaped cardiovascular care across the country. In addition to being recognized by their peers both locally and nationally, Cohen and Spertus are also now considered two of the worlds most influential scientific minds of 2014, according to Thomson Reuters.
The Intellectual Property and Science business of Thomson Reuters, the world's leading source of intelligent information for businesses and professionals, released its analysis announcing The Worlds Most Influential Scientific Minds: 2014, listing the top researchers in science around the globe. Those named have earned their distinction by publishing the highest number of articles that rank among those most frequently cited by fellow researchers. Drs. Cohen and Spertus were recognized for their major contributions in the category of Clinical Medicine.
The immense contributions both Dr. Cohen and Dr. Spertus have made to the world of cardiovascular research cant be quantified, said Julie Quirin, CEO of Saint Lukes Hospital. To be recognized not only for their contributions but as two of the worlds leading scientific minds is a tremendous honor and a testament to the quality and caliber of their research.
David J. Cohen, M.D., M.Sc., serves as medical director of cardiovascular research at Saint Lukes Mid America Heart Institute and is the Missouri Endowed Professor of Cardiovascular Research at the University of Missouri-Kansas City. His research focuses on the economics of health care: the application of formal cost-effectiveness methodology to novel interventions for the diagnosis and treatment of cardiovascular disease; the extension of traditional cardiovascular outcomes research to include collection of patient-centered outcomes among patients undergoing treatment for cardiovascular disease; and the development and evaluation of methods for optimizing treatment selection for patients undergoing treatment for coronary artery disease and valvular heart disease.
Formerly serving as the director of the Economics and Quality of Life Research Group at the Harvard Clinical Research Institute and an associate professor of medicine at Harvard Medical School and in the Department of Health Policy and Management at Harvard School of Public Health, Dr. Cohen has published more than 280 original articles in leading journals, including the New England Journal of Medicine, The Lancet, JAMA, Circulation, and the Journal of the American College of Cardiology. Dr. Cohen is currently Associate Editor for the Journal of the American College of Cardiology and also serves on the editorial board for the American Heart Journal, JACC Interventions, and Circulation, and reviews for numerous scientific journals including the New England Journal of Medicine, JAMA, the American Journal of Cardiology, and the American Heart Journal.
John A. Spertus, M.D., MPH, is a cardiologist and the Lauer/Missouri Endowed Chair and Professor of Medicine at the University of MissouriKansas City, where he serves as clinical director of Outcomes Research at Saint Lukes Mid America Heart Institute. He has served on numerous national committees for the American College of Cardiology, American Heart Association, American Medical Association, National Quality Forum, Medicare, and United Healthcare. His research activities led to his induction into the American Society of Clinical Investigation in 2006 and as the recipient of the American Heart Associations Distinguished Achievement Award in 2013. He founded the Cardiovascular Outcomes Research Consortium and CV Outcomes, a nonprofit corporation dedicated to advancing health care quality and outcomes research in cardiovascular disease and health outcomes sciences and Health Outcomes Sciences, a biotechnology start-up to support the implementation of his research throughout the country. Dr. Spertus and his collaborators have published more than 500 peer-reviewed articles.
Dr. Spertus research focuses on methods for assessing patients health outcomes, measuring health care quality, and the use of information technology to guide medical decision-making based on risk-prediction models so that treatment can be safer, more cost-effective, evidence-based, and patient-centered. He developed the Seattle Angina Questionnaire (SAQ), and the Kansas City Cardiomyopathy Questionnaire (KCCQ), which have both been translated into more than 60 languages and are emerging as the gold standards for measuring patients symptoms, functions, and quality of life in coronary artery disease and heart failure. Most recently, Dr. Spertus has extended his translational research to illuminate the prognostic significance of genetic and other biomarkers on cardiovascular outcomes.
Thomson Reuters analysts assessed papers indexed between 2002 and 2012 in 21 broad fields of study. They tracked authors who published numerous articles that ranked among the top one percent of the most cited in their respective fields in the given year of publication. These documents represent research that the scientific community has judged to be the most significant and useful.
Science and innovation are strong drivers of the future and these people are making that future come to life, said Basil Moftah, president, Thomson Reuters IP & Science. The global nature of the study highlights the countries, institutions, and researchers on the cutting edge of science. Its our mission at Thomson Reuters to support these individuals as they advance innovation globally.
Visit ScienceWatch.com to download The Worlds Most Influential Scientific Minds: 2014.

Learn more about Highly Cited Researchers, Web of Science, Essential Science Indicators, and InCites.
About Saint Lukes Mid America Heart Institute

Saint Lukes Mid America Heart Institute, a member of Saint Lukes Health System and a teaching affiliate of the University of MissouriKansas City, is one of the preeminent cardiovascular programs in the country. Its legacy of innovation began more than 25 years ago when it opened as the nations first heart hospital. Since then, the Heart Institute has earned a worldwide reputation for excellence in the treatment of heart disease, including interventional cardiology, cardiovascular surgery, imaging, heart failure, transplant, heart disease prevention, womens heart disease, electrophysiology, outcomes research, and health economics.With more than 50 full-time board-certified cardiovascular specialists on staff, the Heart Institute offers one of the largest heart failure/heart transplant programs in the country, has the largest experience with transcatheter aortic valve replacement in the Midwest, and is a global teaching site for the newest approaches to opening challenging blocked arteries using minimally invasive techniques.
About Saint Lukes Health System

Saint Lukes Health System consists of 10 area hospitals and several primary and specialty care practices, and provides a range of inpatient, outpatient, and home care services. Founded as a faith-based, not-for-profit organization, our mission includes a commitment to the highest levels of excellence in health care and the advancement of medical research and education. The health system is an aligned organization in which the physicians and hospitals assume responsibility for enhancing the physical, mental, and spiritual health of people in the metropolitan Kansas City area and the surrounding region.
About Thomson Reuters

Thomson Reuters is the world's leading source of intelligent information for businesses and professionals They combine industry expertise with innovative