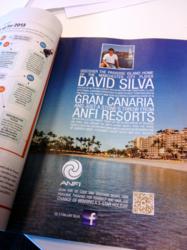 (PRWEB UK) 14 February 2013
Appointed by luxury vacation membership company Anfi in Gran Canaria, Spain, Media Agency Group is launching a heavyweight, multi-format advertising campaign in the six European cities of Manchester, Glasgow, London, Rome, Berlin and Amsterdam, starring David Silva to promote tourism to Anfi del Mar.
Using a range of advertising formats, consumers will see the Anfi brand featuring on full page adverts in EasyJets inflight Traveller magazine, a digital banner in Manchester Piccadilly rail station, bus advertising in Manchester, and taxi full livery and supersides advertising in all six cities. To accompany their advertising an online PR campaign will target all cities, including Anfis social media channels. Occupying the first half of 2013, the advertising campaign is strategically timed to target prospective holidaymakers.
The campaign showcases a sun-drenched beach and Brand Ambassador Manchester City Football Clubs Spanish midfielder David Silva endorsing the Spanish island. A website address and a QR code allow potential holiday makers to explore further information via digital access.
The advertising campaign coincides with the companys 25th Anniversary, founded by Norwegian entrepreneur Bj