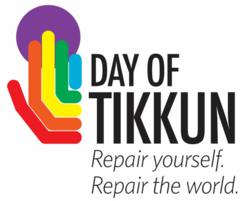 (PRWEB) September 11, 2012
Author and entrepreneur Eric Greenberg today announced Day of Tikkun (repair), a first-time spiritual experience focused on uplifting people and creating positive energy to spark a shift in collective consciousness — a shift greatly needed in this significant year of 2012. The event will be held at the historic Nob Hill Masonic Center at 1111 California Street in San Francisco on Saturday, October 6th from 12:30 PM – 10:30 PM.
Inspired by the universal maxim, Be the change you wish to see in the world, Greenberg is underwriting the full costs of the daylong event so that attendance is FREE to all who want to participate and benefit from the remarkable day. People are encouraged to share in the energy and spirit of giving by donating to ten important charities (listed below) that are making the world a better place every day.
The Day of Tikkun program is comprised of revered spiritual teachers and musicians to inspire and guide participants in the work of transformation and repair: New York Times best-selling authors Marianne Williamson and Gary Zukav; shaman and medical anthropologist Alberto Villoldo, PhD; poet and Rumi translator Coleman Barks; Grammy award-winning musician David Darling; and best-selling musical artist Snatam Kaur. A central experience of the day will be an authentic Despacho prayer ceremony for peace conducted by the Qero Shamans of Peru, who are traveling to San Francisco especially for this event.
2012 is not the end of the world. It is an extraordinary opportunity for personal and world healing. We have a choice to evolve or devolve during these most challenging times in human history, says Greenberg. My hope is that people take the powerful energy of the day out into the world and help their fellow brothers and sisters.
Fusing the spiritual, mystical, and musical, the Day of Tikkun is the only time the Qero Shamans members of the last of the unbroken Incan lineage will gather with this incredible group of spiritual icons in one place, for one day of sacred ceremony, combined with a full concert by Snatam Kaur and her band. Tapping into the energy that is created during the day, the music and singing will send that energy into the collective consciousness and set the tone for expansive healing of the world within and without. Says Greenberg, Simply put, there has never been an event like Day of Tikkun, and it will be an experience that will, likely, never be replicated. Day of Tikkun will be led by a group of todays most revered spiritual guides and teachers (not in order of appearance):