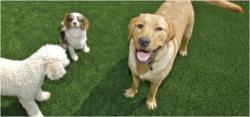 VISTA, California, (PRWEB) April 09, 2013
EasyTurf, Inc. has named Denver-based DBC Irrigation Supply as the newest UltimateGrass distributor, representing the line at its locations in Colorado, New Mexico, Wyoming and Texas. EasyTurf, a FieldTurf company, has designed UltimateGrass to be the refined, high performance synthetic grass landscape product that outperforms any other synthetic turf on the market.
Initially established as the Denver Brass & Copper Company, DBC Irrigation Supply has been a successful distributor of quality landscape and irrigation supplies since the 1940s. With 11 branch locations in Colorado, New Mexico, and Wyoming, and four additional branches in Texas, DBC offers its customers expert support, value-added services, and the convenience of multiple locations.
We are very proud to have a partner with such proven performance and influence in their market, says Steve McLean, Director of Sales at EasyTurf. DBC Irrigation is a quality group of people and will represent us well.
EasyTurf is expanding its network of resellers across North America, offering a full line of synthetic turf products and all associated supplies as part of the UltimateGrass line.
UltimateGrass is designed to alleviate many issues linked to other synthetic turfs. Technologies like UltraDRAIN drainage allows the UltimateGrass turf to drain through 100 percent of each square foot installed. The highest quality materials are used to create the "blades" of the UltimateGrass lawn, delivering a natural, comfortable and realistic turf product.
UltimateGrass artificial landscape cover won't soak up pet wastes, and liquid waste drains freely with zero absorption. Made from 100 percent polyethylene, UltimateGrass is fully recyclable.
For more information, visit the EasyTurf website at www,EasyTurf.com, call 1-866-327-9877 or Email info(at)EasyTurf(dot)com.
About EasyTurf:
In May 2010 EasyTurf, Inc. a long-time distributor of FieldTurfs line of landscaping products and a recognized leader in the artificial grass industry, became the national brand of FieldTurfs landscape, pets, playground, and golf artificial grass products. The partnership allowed FieldTurf to rapidly expand its existing dealer network and accelerate sales and distribution of FieldTurfs landscape products on a national level to homeowners, municipalities, schools, businesses and the military.
EasyTurf offers state-of-the-art synthetic lawns for beautiful, easy-care residential and commercial landscapes, providing specialty synthetic grasses engineered specifically for commercial and residential putting greens, and for pet-friendly landscapes.
EasyTurfs product advancements in the synthetic grass industry have led to massive growth for the Vista, California-based leader in lifelike artificial lawns that stay beautiful year round.
FieldTurf has long been the world leader in synthetic sports field cover; now EasyTurf is poised to equal that success in the residential and commercial artificial grass landscaping markets.
###