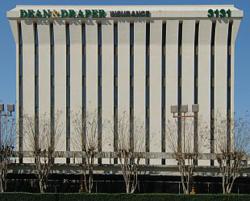 Houston, Texas (PRWEB) June 27, 2013
Launched as a two-man shop in 1980, Dean & Draper Insurance Agency LP has grown over the past 33 years to be one of the top three Houston-area property and casualty insurance agencies. Rankings were based on 2012 local premiums, as recorded by the Houston Business Journal, a leading provider of local business news for the Greater Houston area. Total local premium volume for Dean & Draper in 2012 was nearly $ 131 million.
Company founder Robert (Bob) Dean attributes his agencys enduring success and impressive growthincluding a 54 percent growth rate between 2006 and 2011to acquisitions and targeted marketing programs, with a focus on technology.
Dean estimates that he has made more than 35 acquisitions over the years, expanding his business by bringing independent agents on-board while retaining some equity in their produced business. This mutually beneficial arrangement that allows the company to offer and cross-sell policies from more than 250 insurance companies. "Clients benefit from choices with valued counsel to choose what is right for them," Dean said.

Early on, Dean created a contract that gave agents of acquired companies an equity interest in the business they brought over with them. The strategy, designed to keep agents on board, worked, and was a prelude to other client employee focused initiatives, including investments in technology and ongoing operational improvements.
"Keeping up with technological advances is critical," Dean said. "Realizing how much an effective digital platform means to todays buyer, we recently revamped our whole digital strategy to both generate leads and deliver value to providers and carriers."
Through the agencys website clients can obtain and compare quotes, view their coverage, and communicate with their agents 24 hours a day, 7 days a week. The website features the latest social media techniques, including Twitter, Facebook and LinkedIn, and also includes a blog with hundreds of articles. Additionally, the agency created a smart phone app geared toward younger clients and is using a search engine optimization (SEO) strategy to improve its search engine result rankings.
On the operational side, Dean and Draper has moved to a paperless environment company-wide and implemented a standard management structure in all of its offices, allowing it to operate more efficiently and effectively. The company has also revamped its sales structure, giving its employees new tools, training, and incentives to excel.
Dean said he will continue to seek growth opportunities through acquisitions, new marketing programs, technology investments, and internal structural enhancements. "My view is that in business, you either grow or die," he said. "There are no plateaus."
For more information, visit Dean & Draper at http://www.deandraper.com or call (713) 527-0444.
About Dean & Draper Insurance Agency LP
Founded in 1980, Dean & Draper caters to an international roster of clients from six offices, including its headquarters in Houston, Texas. Through a network of more than 200 diverse insurers, the independent company offers the most competitive, comprehensive policies for personal and commercial insurance needs. This National Top 100 agency in Property & Casualty and Top 50 agency in personal policies underwrites in excess of $ 150 million in annual auto, home, health and corporate premiums; $ 40 million being from group health alone.