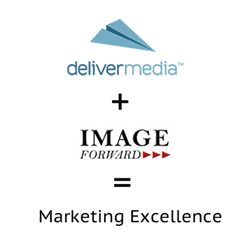 Tampa, FL (PRWEB) February 28, 2014
Deliver Media, a full-service integrated marketing company specializing in direct mail and the marketing agency for Dominos Pizza franchises nationwide, has partnered with Image Forward, an internet marketing agency specializing in digital and internet marketing strategies such as Directory Listings, Social Media Management, and Search Engine Optimization (SEO) for large-scale multi-location franchises. Deliver Media, originally Southeast Print Programs, has specialized in targeted direct mail and postcard marketing programs for over 20 years. Rebranding and changing its name to Deliver Media in 2012, the full-service marketing agency now also provides a full range of traditional and digital marketing services. Joining forces with Image Forward will bring expansion and depth to the marketing services Deliver Media already provides its clients, including Search Engine Optimization (SEO), Social Media Management, Content Creation, Reputation and Visibility Management, Campaign Performance Analysis, and more. Image Forwards services include a new social media management software, ifSocial designed to benefit franchise clients across North America. ifSocial is currently being tested and will feature the cost and time-saving ability for franchises and businesses to create unique and targeted social media messages to specified divisions and locations. Sean Johnson, CEO of Deliver Media stated, Deliver Medias overarching goal is to provide high-quality, high performance, high-return marketing techniques to our clients to make their businesses succeed. This strategic alignment with Image Forward will simply accelerate our ability to do so on a much greater level. Were excited about blending Image Forwards achievements with ours because we will be even more equipped to provide the best marketing services to our clients. Michael Huth, CEO of Image Forward is equally excited about the istrategic alignment and opportunity to offer even more integrated solutions to clients.
About Deliver Media:

Deliver Media is a Tampa-based agency providing cutting edge integrated marketing services. They provide full-service marketing and advertising services from targeted postcard marketing and direct mail campaigns to fully functional website development, SEO, digital advertising, and social media management. Sean Johnson, Deliver Medias CEO, has been with Deliver Media (previously Southeast Print Programs) since 2001. Deliver Media's clients include Domino's Pizza, Fantastic Sams, BMW, Mitsubishi, and GNC.
About Image Forward:

Image Forward, headquartered in Tampa Bay, FL, specializes business Internet presence using search engine optimization, digital advertising, pay-per-click, content creation (blogs, articles, press releases) video marketing, and social media promotions and management. Founded by CEO Michael Huth in 2002, Image Forward is a 3rd party vendor for Internet Directory Listings, Business Profile Promotion, and Internet Presence Management services. Serving clients across North America and Canada, including Homestead Senior Care, Wash, Lube, WLR Automotive, and State Farm.
If you would like more information about this topic, please contact Emily Walsh at 800-377-4683 or email at Emily.Walsh(at)DeliverMedia(dot)com.