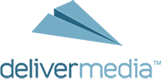 Tampa, Florida (PRWEB) February 28, 2014
Deliver Media, a full-service integrated marketing agency, recently moved, expanding its offices in the Carrollwood district of Tampa. The new, custom-designed office awash with energetic colors and featuring a pool table, flat screen televisions, video games, and surround sound, accommodates up to 50 professionals, positioning Deliver Media to become one of the largest marketing agencies in Florida. Deliver Media, the primary direct marketing service provider for Dominos Pizza franchises across the U.S., spun off from Southeast Print Programs in 2011 and executed a name change and rebranding. The company, which specializes in targeted direct mail, postcard marketing campaigns, and database management, has expanded its service offerings to include a wide range of marketing strategies. New strategies include branding, website design and development, search engine optimization (SEO), digital and pay-per-click advertising, social media management, and content creation. Deliver Media and Southeast Print Programs continue to partner together to produce personalized direct mail and postcard marketing pieces using in-line Variable Imaging, which utilizes data to create messages personalized to fit individual recipients classified in various customer categories, allowing the client to achieve multiple goals in each mailing during an ongoing campaign. Mitsubishi, GNC, Dominos Pizza, and Jersey Mikes are a few of Deliver Medias direct marketing clients. Now, with a growing staff of graphic designers, web design and application developers, copywriters, traditional and digital media professionals, and direct marketing and database specialists, Deliver Media creates customized marketing strategies that support any clients marketing goals.
Sean Johnson, Deliver Medias CEO states, On their own, each marketing service has the power to benefit our clients to a certain degree, but Deliver Media encourages an integrated, interdependent approach where one strategy supports another, generating even higher performance and returns on our clients investment. In line with Deliver Medias growth and cultural definition, they recently launched a completely redesigned website (http://www.delivermedia.com). Deliver Media also recently launched videos on their YouTube channel (http://www.youtube.com/delivermedia).
We wanted the public to get a feel for who we are as a team, Johnson said. We work hard together, but we play hard together, too. Were dedicated to the success of our clients as much as to the success of Deliver Media. We foster creativity and new ideas through periods of fun and down time as much as during an intense strategizing session. The Deliver Media environment is creative, pragmatic, and positive and that mix has always worked in our favor.
Deliver Media actively engages on several social media channels, sharing original marketing content and relevant news and information: Twitter (@Deliver_Media), LinkedIn, Google+, YouTube, Pinterest, Instagram, and Facebook.
About Us
Deliver Media is a Tampa-based agency providing cutting edge integrated marketing services. They provide full-service marketing and advertising services from targeted postcard marketing and direct mail campaigns to fully-functional website development, SEO, digital advertising, and social media management. Sean Johnson, Deliver Medias CEO, has been with Deliver Media (previously Southeast Print Programs) since 2001. Deliver Media's clients include Domino's Pizza, Smile Design Dentistry, Greenhouse Mortgage, Mitsubishi, GNC, Jersey Mikes, Caf