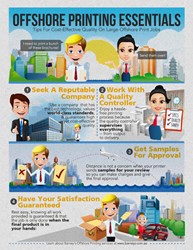 Melbourne, Victoria (PRWEB) August 16, 2013
Since Melbourne SEO Services released their latest client work at the start of this month, they've experienced a spike in demand for their services. The director of the web video and online marketing company, Mr. David Jenyns, explains the rise in interest, "We launched our infographic service earlier this month along with a handful of client work for our portfolio, such as Barney's Offshore Printing Essentials graphic. The great examples, alongside the very affordable pricing, has generated a bit of a buzz about our service."
Whenever a business launches a new product or service, gaining interest from the public can be a difficult task. Despite the vast options available from paid advertising, 'word of mouth' is considered one of the best lead sources for new customers, both in the real world and online.
Melbourne SEO Services revealed their new infographic service several weeks ago and, just like every other business, faced the daunting task of spreading the word of their new product. Luckily the demand for creating visually appealing graphics suddenly increased for them through client recommendations, social media and blog sharing.
Following on the previous graphic the marketing firm did for Barney's Print Management about Eco-Printing, they've recently revealed the client's latest poster which revolves around Barney's Offshore Printing Essentials. "Coming out with a second brilliant infographic so quickly was a great idea for both us and the client," remarks Mr. Jenyns, "because the excitement from the initial launch just carried over with this new work."
He continues, "We're pleasantly surprised with all the positive feedback and results we've received so far, as well as the increase in demand for the service." Mr. Jenyns, no stranger in cutting edge marketing, praises the benefits of using graphics, "I've said it before and I'll say it again, infographics are the hot thing right now. It's important to remember that consumers can understand a visual representation of a message much easier and quicker than text."
Mr. Jenyns backs up his statement with "the fact that 65% of the population are visual learners, so there's no logical reason for businesses to spend all their time and money working on text only advertising. Visuals like web video and infographics are the way of the future."
The company director further says around the same time the Offshore Printing Essentials graphic was released, they updated the infographic on their own website as well, "so businesses interested in the service could get our visual representation of what's on offer."
Web video and online marketing company Melbourne SEO Services recently unveiled another client infographic which created a spike in demand for their service. The company director attributes the high quality of the work combined with 'word of mouth' via social sharing as the key reasons for the marked interest. "My talented team can turn a company's message into a graphic quick-smart, helping them spread their message fast," remarks Mr. Jenyns. Click here to view the Barney's Offshore Printing Essentials image, or for other examples of Melbourne SEO Services' infographic work, simply visit http://www.melbourneseoservices.com/seo-services-australia/infographic-starter/.
About Melbourne SEO
MelbourneSEOServices.com is a full service search engine optimization (SEO) consultancy, based in Australia, but with a worldwide client base.
Known for being at the cutting edge of strategic SEO practices, the company delivers a growing suite of services including: on-page and off-page search engine optimization, article distribution, Google Places listing, press release service, web video production and one-on-one consulting.
Melbourne SEO Services Director, David Jenyns, has, over several years, built a team of experts who are niche experts to support the business, and who share his ethos for ethical, professional internet marketing.