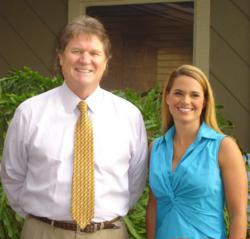 Denham Springs, LA (PRWEB) November 27, 2012
Family dentists, Rick Beringer, DDS and Nora Richardson, DDS, have announced the launch of a new, patient-focused website created by dental website design leader, ProSites, Inc. Drs. Beringer and Richardsons practice is utilizing the website to educate the community on the importance of oral health and restorative dentistry in Denham Springs. The website includes a links page with informative dental resources as well as a frequently asked questions page to address common concerns on topics ranging from oral hygiene to difficult dental procedures.
Our website offers fast and easy access to help patients find the answers to their dental questions and concerns all in one place, Dr. Richardson says. Our site offers links to sites the general public can trust."
The website possesses interactive attributes including educational videos and a free Smile Analysis feature to help patients make better informed decisions about their dental health. Current and prospective patients now have access to information about providers, helpful dental links, and other informative content when they visit the website. Some of the services offered by the dentists include:
Restorative Dentistry

Family Dentistry

Cosmetic Dentistry

Implant Dentistry

Sedation Dentistry
The website also utilizes extensive search engine optimization techniques to reach patients and local consumers who are searching for relevant information about family dentistry in Denham Springs.
"These days, we understand how busy people are in their daily lives, Dr. Richardson continues. Taking time out of their day to find a dentist and schedule an appointment during normal business hours is not always a priority. We feel that by having an informative, user-friendly site where patients can ask questions and request an appointment based on their convenience is very important. This allows us to gather as much information as possible from the patient before even talking to them on the phone."
About Dr. Rick Beringer and Dr. Nora Richardson:

Dr. Beringer graduated from LSU dental school in 1974 after completing a Bachelor of Sciences degree from Louisiana Tech University. He is a native of the Baton Rouge area and graduated from Zachary High School. He was also awarded a Fellowship with the Academy of General Dentistry.
Dr. Richardson is a native of Monroe, LA and received her undergraduate degree from LSU in 1996 and her Doctor of Dental Surgery degree in 2000. She has been with Advanced Dental Care for more than 12 years and became partner in 2004. She is licensed in oral conscious sedation for adults and children.

Both doctors are members of the American Dental Association, Louisiana Dental Association, Greater Baton Rouge Dental Association, Academy of General Dentistry, and Fortune Management Platinum Circle. For more information on Rick Beringer, DDS, and Nora Richardson, DDS, please visit the website at advanceddentalcarela.com.