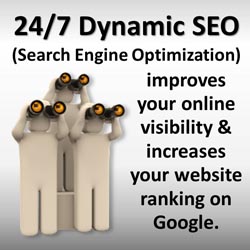 (PRWEB) September 22, 2012
Internet Dental Alliance, Inc. (IDA) announces automatic dental marketing search engine optimization (SEO) included with each of its dental marketing websites (New Patient Portals). The Portals are the central components of IDA's New Patient Marketing Machine — a targeted lead generation system that has just about every online tool needed to find more new patients each month that match dentists' clinical skills.
Dental SEO is important for successful online marketing for two reasons: First, dentist websites won't attract organic search traffic without effective optimization; and second, strategic use of the specific keywords that patients themselves use when searching for dentists online can keep the front desk team busy scheduling appointments for high-value patients instead of busy answering general inquiries for services the practice does not provide. Simply stated, SEO can make the difference between profits and busywork when it comes to attracting profitable leads and converting them into new patients.
Minimizing cost is another benefit to the strategic SEO included with every IDA dental websites at the time it's launched. Having to hire specialists to go back through each page of the website to properly optimize it after the site is already published can be expensive, both in fees that must be paid and in lead generation opportunities that are lost in the interim.
Beware of SEO companies that promise you first-page results in Google overnight, says Jim Du Molin, dental marketing guru and founder of Internet Dental Alliance, Inc. It's not true, and no one can honestly promise that. The only way to get good placement in organic search engine listings is by optimizing your web presence as part of a cohesive internet dental marketing campaign.
IDA dental websites automate SEO for both geographical (local) search terms and dental service keywords. The local keywords are derived from the dental practice's address and up to four additional nearby geographical areas that doctors decide to target. The primary dental market keywords are determined by the doctors' selection for their Portal for example, general dentistry, wisdom teeth, cosmetic dentistry, implant dentistry, gum disease treatments, etc. To maximize lead generation, IDA recommends publishing multiple Portals one for each type of dental service for which they want to increase new patients.
About Internet Dental Alliance, Inc.
IDA is North America's largest provider of websites for dentists and dental directories. In 2012, it completed its cutting-edge dentist marketing Lead Fire lead generation system. Based on organic geo-targeted local search strategy which is customized for each dental office, LeadFire technology automates search engine optimization, and makes it possible to generate new patient leads within minutes of setting up the system. Internet Dental Alliance provides dental practices with online dental marketing services such as dental practice websites, website design, find-a-dentist websites, and other dental management advice and resources.