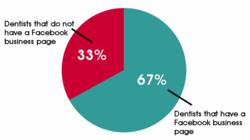 (PRWEB) September 19, 2012
Internet Dental Alliance, Inc. (IDA) now simplifies dental practice marketing with Facebook pages. The Professional and Premium New Patient Marketing Machine programs provide dentists with Facebook pages and tabs, along with multiple dental marketing websites (New Patient Portals) and other tools designed to generate high-value leads for new patients.
Facebook is the internet's second most visited website, with traffic numbers only surpassed by Google. As the net's largest social networking site, it's a good place for dentists to engage consumers who share information with family and friends. By posting tips, advice, and information about their practice, dentists can extend the reach of their internet dental marketing. The Facebook tabs included with IDA's New Patient Marketing Machine Professional and Premium-level package allow dentists to display an interactive office location map, publish information about doctors' credentials and dental practice services, and schedule new patient appointments right on their Facebook page.
"IDA designs the Facebook tabs so that they integrate seamlessly with your New Patient Portal's pages," says dental management consultant Jim Du Molin, and founder of Internet Dental Alliance, Inc. Most dentists are too busy treating patients to add learning a new marketing tool to their schedules, so we make the dental marketing on Facebook easy for you!"
The Pro and Premium-level New Patient Marketing Machine programs feature multiple New Patient Portals that simplify the process of setting up and managing online lead generation campaigns for multiple high-value dental patient services, and for practices with multiple doctors or locations. IDA Portals use its proprietary LeadFire content publishing technology to automate search engine optimization (SEO). The online Control Panels give doctors access to IDA's library of pre-written articles, professionally produced videos, stock images, and lead tracking reports for all Portals, plus additional tools for finding new patients online. There's also a set of bonus tutorials on strategies doctors can use to train their dental office teams, improve internal marketing and increase lead conversions.
About Internet Dental Alliance, Inc.
IDA provides dental management advice and customized resources to dental practices, including online dental marketing services such as website design, find-a-dentist websites and dentist web sites which are search engine optimized based on dental market (dental SEO). Internet Dental Alliance is North America's largest provider of websites for dentists and dental directories. In 2012, it completed its advanced Lead Fire lead generation system, which automates content marketing, can be set up within minutes, is based on organic geo-targeted local search, and provides customized dental office marketing.