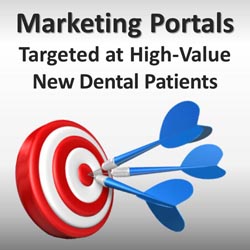 (PRWEB) January 31, 2013
The internet has changed forever how products and services are marketed. Thanks to search engines, consumers are now empowered to research their problems and choose their solutions. This new behavior creates a huge dental marketing opportunity for dentists who are willing to invest in some education to find new patients. The new dental websites from Internet Dental Alliance, Inc. (IDA) make it easy for dentists to be the online oral health authorities in their local markets, and find more new patients in the process.
IDA's New Patient Portals use its proprietary technology to publish keyword-rich articles that answer questions on specific dental topics, and attract new patients who are searching online for those answers. Member doctors can make selections from IDA's online library of pre-written content. These articles are professionally written to educate consumers on topics such as cosmetic dentistry, children's dentistry, dental implants, braces, etc. More than 25 of the most popular dental care topics are available.
An important feature of IDA's automated search engine optimization (SEO) approach is that it incorporates geo-targeted local search terms along with the dental care keywords. The resulting audience members that each Portal attracts are interested in the article topics, and they also live in the geographical areas the practice serves.
"IDA's educational content strategy is as useful for single practitioners as it is for large practices with multiple doctors, locations and treatment offerings," said Jim Du Molin, dental marketing guru and founder of Internet Dental Alliance, Inc. "Dentists can manage one or multiple Portals using a single online Control Panel. The ultimate goal is to create a steady stream of new patients into your practice every month."
Once a prospective patient finds an interesting article and visits the Portal, they find even more information related to their original search, and on other engaging topics. IDA provides templates dentists can use to add featured content to their Portals: a Smile Gallery of dental success stories, an Office Tour to display a patient-friendly environment, Meet Our Team to profile popular staff members, etc.
For more information about IDA's New Patient Portals and the New Patient Marketing Machine system, visit http://InternetDentalAlliance.com.
About Internet Dental Alliance, Inc.
IDA is the largest North American provider of websites for dentists, email patient newsletters and dental directories. Known for its cutting-edge approach to dental marketing, it completed development of its advanced LeadFire technology in 2012. LeadFire's proprietary content generation technology makes it possible for doctors to generate new patient leads within minutes of set up, and uses organic geo-targeted local search, customized and optimized for each dental practice . Internet Dental Alliance provides dental website design, find-a-dentist websites, online newsletters and other dental practice marketing advice.