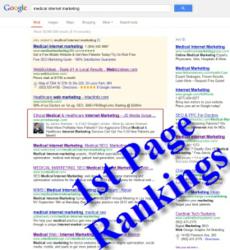 Denver, CO (PRWEB) May 24, 2013
E-Dentists.com has announced the launch of their new dental SEO analysis, in partnership with JD Media Surge, a leading medical Internet marketing agency.
E-Dentists.Com/Dental-SEO-Analysis/
The dental SEO analysis service will focus on providing dentists the help they need to rank high in the search engines for their competitive keywords. The dental SEO analysis covers a full analysis of the dentists website and recommendations based on what their competitors are doing right. The goal is to quickly provide a list of recommendations dental professionals can quickly implement so their website can start ranking at the top of the search results.
The dental SEO analysis from E-Dentists.com also includes keyword research reports with information on current keyword rankings, link building analysis, and a technical website audit. Supplemental videos are also provided, along with a set of recommendations on how dentists can improve their websites and search engine visibility.
Website optimization is covered based on competitive data available through the major search engines, such as Google, Yahoo, and Bing. The dental SEO analysis helps clients save time and money. It is focused on new search engine optimization strategies that allow clients to get a time assessment on how long it will take to gain the visibility and new patients. As part of the service, all questions are answered via phone or email.
All together, the analysis and videos of recommendation provided help dentists understand the most effective ways to increase their website rankings. These are offered with the expertise of JD Media Surge, a medical Internet marketing agency specializing in SEO services for medical practices, dentists, and other health care professionals.
About JD Media Surge, LLC.
The dental SEO services at E-Dentists.com were started by James Dreesen, a certified search engine marketing consultant and owner of the medical Internet marketing agency JD Media Surge, LLC. JD Media Surge, LLC focuses its efforts on simply helping dental clients rank high on major search engines and are generating incredible results post the Google penguin update.
Original Source:
http://www.e-dentists.com/new-seo-analysis-launched-by-e-dentists-com-for-dental-websites/