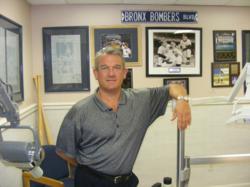 West Caldwell, NJ (PRWEB) October 04, 2012
Internet marketing company Route 72 gained another great client this week. Let's meet Dr. Dominic Lembo, DDS, from Haledon, NJ (http://www.belmontassociatesnj.com). Owner of Route 72 James Alamia was asked how he would handle the marketing of a dentist office compared to his other clients. "Nothing really changes. We attack the marketing with creativity and social tactics along with some of the same angles we use with other clients. We have developed a formula over the years that has been successful with any type of client we take on." Dr. Lembo and his staff are excited to be on board with James Alamia and the Route 72 marketing team.
Dr. Dominic Lembo takes pride in his practice and has a unconditional commitment to his patients. In addition to his passion for dentistry, he's the is also most loyal Yankee fan on the east coast. Each room is filled with New York Yankee memorabilia from Babe Ruth to Mickey Mantle. "I'm going to the game tonight!" Dr. Lembo exclaimed after being asked about the current pennant race the Yankees find themselves in. With two games left in the regular season and the Yankees up only one game on the Orioles, Dr. Lembo wouldn't miss this game for the world. Other features, such as denture care for seniors, separates Dr. Lembo from the rest of the pack. "Most dentists prefer not working with dentures," Dr. Lembo stated, "I actually enjoy making and working with them on my patients."
Another amenity that Lembo and his staff bring to patients is that several dental specialists work together under one roof. Most people don't prefer seeing many dentists to fix different problems. With Dr. Lembo and his team of well qualified specialists, a patient will never find the need to travel to any office other than his own, located on Belmont Avenue in Haledon, New Jersey. His team comforts their patients and makes them feel at home. It is the perfect environment for anyone that is nervous about making that treacherous trip to the dentist.
Unlike other dentists where patients are not happy to visit, Dr. Lembo is definitely the exception. Where other dentists find a problem he will find an opportunity. Dr. Lembo is accepting new "Yankee Fan" patients. His office is located at 476 Belmont Ave, Haledon, NJ. Call to make an appointment with new exciting New Jersey dentist. Your teeth are that important. Direct office line is: 973-790-4494