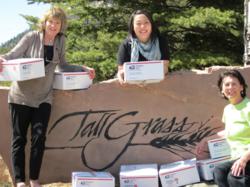 Denver, CO (PRWEB) October 12, 2012
In the Great Room at TallGrass Aveda Spa and Salon, near Denver, Colorado, spa guests can now find stacks of 1,000 Christmas cards that they can use to write holiday messages to soldiers in Afghanistan. The cards are just one of the thoughtful gifts that are gently packed into care packages called Soldier Boxes by the TallGrass staffers. Filled with donations of personal care items, full and travel size toiletries, sanitary supplies, playing cards, paperback books and seasonal items such as warm socks or cooling neck wraps, the Afghanistan Soldier Box Project connects the Denver spas community with troops in harms way.
The response we get from the soldiers touches our hearts, says TallGrass owner Gail Ridings. We treasure every, single thank you letter and it is impossible to read them aloud at staff meetings without choking up.
The Soldier Box Project was initiated three years ago by TallGrass nail technician Deb Dickinson who finds soldier contacts at http://www.AnySoldier.com and leads the effort to collect the most requested items and coordinate packing and shipping. In the spas retail department, guests can purchase Aveda travel size items at cost to donate to the project. And, gifts of cash from guests help cover the cost of sending the flat rate postal boxes to Afghanistan.
Timed to support a holiday shipment of care packages on November 19, TallGrass announces a Support Our Soldiers promotion that brings awareness to its campaign to support our troops and help cover expenses. From now through November 8, when spa guests specifically ask for SOS Aromatherapy Massages, SOS Aromatherapy Facials or SOS Regular Pedicures, a portion of the proceeds from those three designated services will be allocated to underwrite the Solider Box Project.
TallGrass Aveda Spa and Salon in the Rocky Mountain foothills community of Evergreen, Colorado, is situated in a peaceful mountain meadow, just 45 minutes from downtown Denver. In addition to the Soldier Box Project, TallGrass philanthropy programs reach out in support of environmental causes, hospice care, breast cancer awareness, homeless women and their children, animal welfare and social services. Winner of awards for Top Website, Best Denver Day Spa, Business of the Year, Top Woman-Owned Business and dozens of honors for its massage, facial and nail services, TallGrass celebrates its 17th anniversary this year.
For more information, please visit http://www.TallGrassSpa.com or call 303-670-4444.