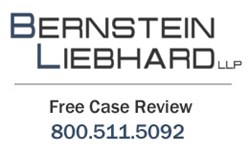 New York, New York (PRWEB) November 27, 2013
As DePuy ASR hip lawsuits (http://www.depuy-asr-hip-recall.com/ ) continue to move forward in courts around the country, Bernstein Liebhard LLP notes that a new Order has been issued in New Jerseys Bergen County Superior Court pertaining to the recently announced DePuy ASR Settlement. Among other things, the November 25th Order directs attorneys who are representing clients in the states DePuy ASR recall litigation to submit Registration Declarations for those cases no later than January 6, 2014. The Order also notes that the submission of a Registration Declaration in no way signifies a claimants commitment or intent to enroll in the DePuy ASR settlement program. (In Re DePuy ASR Hip Implants Litigation, BER-L-3971-11)
We are now working with our clients to evaluate the DePuy ASR settlement program and determine the best course of action for each case, says Bernstein Liebhard LLP, a nationwide law firm representing the victims of defective drugs and medical devices. The Firm continues to offer free legal evaluations to individuals who allegedly experienced metallosis, chronic pain, disability, premature hip implant failure, and other serious complications allegedly related to devices included in the DePuy ASR recall.
DePuy ASR Lawsuit Settlement

Court records indicate that more than 12,000 DePuy ASR lawsuits have been filed in courts around the country since the metal-on-metal hip implants were pulled from the market in 2010. More than 650 of those claims are pending in the multicounty litigation underway in New Jersey Superior Court. The majority of DePuy ASR lawsuits have been filed in a multidistrict litigation underway in U.S. District Court, Northern District of Ohio. (In re: DePuy Orthopaedics, Inc. ASR Hip Implant Products Liability Litigation MDL 2197)
According to court documents, the DePuy ASR settlement proposal was announced in the Northern District of Ohio on November 19, 2013. The settlement would resolve cases brought on behalf of ASR recipients who underwent revision of their artificial hip due to injuries related to the DePuy ASR recall no later than August 31, 2013. According to court documents, they would be entitled to a base award of $ 250,000. That award could be reduced, however, depending on certain other factors, including their prior medical history. Other circumstances could entitle plaintiffs to a supplemental award if they, for example, required multiple revision surgeries, or if they experience certain extraordinary injuries in the future.
According to The New York Times, the DePuy ASR settlement proposal must be accepted by 94% of eligible claimants before it can become finalized. If it is, the agreement would resolve around 8,000 of the DePuy ASR lawsuits currently pending against Johnson & Johnson and its DePuy Orthopaedics unit. Those plaintiffs not eligible to participate in the program would retain their right to pursue a DePuy ASR lawsuit against the manufacturers of the hip implant.*
Individuals who have suffered injuries allegedly related to the DePuy ASR recall may be entitled to compensation for medical bills, lost wages, pain and suffering, and more. To learn more about filing a DePuy ASR lawsuit, please visit Bernstein Liebhard LLPs website. Free case reviews can also be arranged by calling 800-511-5092.
*nytimes.com/2013/11/20/business/johnson-johnson-to-offer-2-5-billion-hip-device-settlement.html, New York Times, November 20, 2013
About Bernstein Liebhard LLP

Bernstein Liebhard LLP is a New York-based law firm exclusively representing injured persons in complex individual and class action lawsuits nationwide since 1993, including those who have been harmed by dangerous drugs, defective medical devices and consumer products. The firm has been named by The National Law Journal to the Plaintiffs Hot List, recognizing the top plaintiffs firms in the country, for the past 11 consecutive years.
Bernstein Liebhard LLP

10 East 40th Street

New York, New York 10016

800-511-5092
ATTORNEY ADVERTISING.