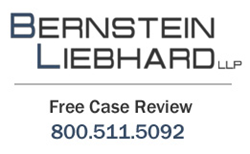 New York, New York (PRWEB) February 06, 2015
DePuy Pinnacle hip lawsuits (http://www.consumerinjurylawyers.com/depuy-pinnacle/lawsuit) alleging injury due to a metal-on-metal version of the artificial hip system continue to mount in the federal litigation underway in U.S. District Court, Northern District of Texas, Bernstein Liebhard LLP reports. According to an updated Master Case List issued by the Court on February 2, 2015, 7,247 cases have been filed in the proceeding. That represents an increase of 88 filings since January 1, 2015, when 7,160 Pinnacle lawsuits were pending in the litigation. (In re: DePuy Orthopaedics Inc. Pinnacle Hip Implant Product Liability Litigation, MDL No. 2244)
Our Firm is representing numerous clients who have filed Pinnacle hip replacement lawsuits in this litigation, and we continue to receive inquiries from individuals who were allegedly injured by the same metal-on-metal hip implant, says Bernstein Liebhard LLP, a nationwide law firm representing victims of defective drugs and medical devices including the metal-on-metal version of the DePuy Pinnacle hip. The Firm is currently evaluating potential DePuy Pinnacle lawsuits on behalf of individuals who were allegedly injured by the device.
DePuy Pinnacle Litigation

According to court documents, all of the claims pending in the Northern District of Texas involve a metal-on-metal version of the hip system that utilizes the Ultamet liner. All of these lawsuits similarly allege that the all-metal design created by this configuration makes the device prone to premature failure and other complications, including metallosis (metal ion poisoning) and chronic pain. Plaintiffs also allege that this configuration shares some of the design flaws that prompted DePuy Orthopaedics to recall its ASR hip implants in 2012, and question whether the all-metal Pinnacle should have been recalled as well. Jeffrey S. Grand, a partner with Bernstein Liebhard LLP, is serving on the Plaintiffs Steering Committee for the federal proceeding.
Johnson & Johnson and its DePuy Orthopaedics subsidiary announced in May 2013 that they would stop selling metal-on-metal hip implants, including the all-metal version of the Pinnacle hip replacement that is at the center of this litigation. The companies have asserted that the move was driven by commercial concerns rather than safety issues. However, the announcement followed an alert published by the U.S.Food & Drug Administration (FDA) in January 2013, which warned that metal-on-metal hips were more likely to fail early than those made of other materials.*
Individuals who were allegedly injured by the metal-on-metal version of the DePuy Pinnacle hip replacement may be entitled to compensation for medical bills, lost wages and other damages. To learn more about filing a DePuy Pinnacle lawsuit, please visit Bernstein Liebhard LLPs website. For a free and confidential evaluation of your case, call 800-511-5092 today.
*http://www.bloomberg.com/news/2013-05-16/j-j-will-stop-sales-of-metal-on-metal-hip-replacements.html, Bloomberg News, May 17, 2013
About Bernstein Liebhard LLP

Bernstein Liebhard LLP is a New York-based law firm exclusively representing injured persons in complex individual and class action lawsuits nationwide since 1993. As a national law firm, Bernstein Liebhard LLP possesses all of the legal and financial resources required to successfully challenge billion dollar pharmaceutical and medical device companies. As a result, our attorneys and legal staff have been able to recover more than $ 3 billion on behalf of our clients. The Firm has been named by The National Law Journal to the Plaintiffs Hot List, recognizing the top plaintiffs firms in the country, for the past 12 consecutive years. Bernstein Liebhard LLP is the only firm in the country to be named to this prestigious list every year since it was first published in 2003.
Bernstein Liebhard LLP

10 East 40th Street

New York, New York 10016

800-511-5092
ATTORNEY ADVERTISING.