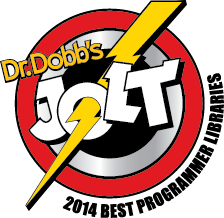 Glendale, CA (PRWEB) April 28, 2014
Developer Express is proud to announce that DevExpress Universal has been awarded the Dr. Dobbs Jolt Award for Best Programming Library of 2014. Out of the 20 nominees evaluated, DevExpress Universal was selected as the winner by a sizable margin a comparatively rare occurrence, said Mike Riley of Dr. Dobbs Magazine.
We are honored to have the DevExpress Universal Subscription chosen as the best programming library of 2014 by Dr. Dobbs, said Julian Bucknall, Chief Technology Officer at DevExpress. This award helps highlight our commitment to delivering high-performance, easy-to-use and feature-complete tools for the Microsoft .NET Framework and next generation mobile platforms such as iOS, Android and Windows 8.1.
What made their suite so compelling was their full embrace of the latest Web and development framework standards, their refinement of existing components to work beautifully and predictably across multiple platforms, excellent documentation support, and their exciting new additions such as inline form editing, a spreadsheet component with nearly as much functionality as Microsoft Excel said Mike Riley.
The Universal Subscription – When only the best will do.
With DevExpress Universal, software developers can introduce enterprise-ready capabilities designed to build next-generation user experiences on the platform of their choice. From Microsoft