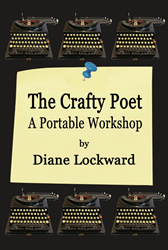 West Caldwell, NJ (PRWEB) April 21, 2015
The Crafty Poet: A Portable Workshop, by Diane Lockward, is a poetry tutorial to inform and inspire practicing and aspiring poets. It includes model poems and prompts, writing tips, and interviews with poets and is ideal for the classroom or individual use.
Contributors to The Crafty Poet: A Portable Workshop include 56 of our nations finest poets, 13 of them current or former state poets laureate. Readers will learn from such poets as Kim Addonzio, Alicia Ostriker, Linda Pastan, Sydney Lea, Jan Beatty, and Baron Wormser. An additional 45 accomplished poets have contributed sample poems.
Diane Lockward is the author of three poetry collections, Temptation by Water (Wind Publications, 2010), What Feeds Us (Wind P, 2006, winner of the Quentin R. Howard Poetry Prize), and Eves Red Dress (Wind P, 2003). She is also the author of two chapbooks, Greatest Hits: 1997-2010 (Kattywompus Press, 2012) and Against Perfection (Poets Forum Press, 1998). Her poems have been published in several anthologies, including Poetry Daily: 366 Poems from the Worlds Most Popular Poetry Website and Garrison Keillor's Good Poems for Hard Times. Her poems have appeared in such journals as Prairie Schooner, Harvard Review, and Spoon River Poetry Review. Her poems have also been featured on Poetry Daily, Verse Daily, and The Writers Almanac. She is the recipient of a poetry fellowship from the NJ State Council on the Arts, the first place prize in the 2012 Naugatuck River Poetry Review Contest, and awards from North American Review, Louisiana Literature, and the Journal of New Jersey Poets.
The Crafty Poet: A Portable Workshop [ISBN 9781456624248] is now available from eBookIt.com, Amazon.com, Apples iBookstore, BN.com, and several other popular eBook retailers.
About eBookIt.com

Since 2010, eBookIt.com (based in Sudbury, Massachusetts) has helped thousands of authors and publishers get their books converted to ebook format, and distributed to all the major ebook retailers, including Amazon.com, Barnesandnoble.com, Apple iBookstore, Kobo, Sony Readerstore, Ingram Digital, and Google eBookstore.
###