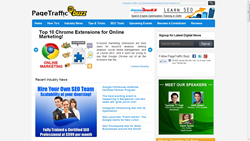 New Delhi, India (PRWEB) September 18, 2014
Start your SMX East experience a day earlier than the rest by participating in the SMX workshop conducted by recognized thought leaders in different fields on September 29, 2014 at the Sheraton New York Times Square hotel. The workshop will offer best-practices training and critical industry networking opportunities centered around SEO, social media and international search.
One of the members of the organizing team of the event said, SMX East 2014 will cover more than 60 tactic packed session on search engine optimization, search engine marketing and social media. Those who want to dig deeper can attend one of the pre-conference workshops on SEO, international search advanced AdWords or local search. Attendees can choose from the aimClears Social Content Distribution for SEO, Advanced AdWords Training, International Search Summit, Bruce Clay SEO Training, In-house SEO Exchange or Local U Boot Camp.
SMX East 2014 will be attended by more than hundred expert presenters. The keynote at SMX East will be delivered by Jonah Peretti, the founder of BuzzFeed, where Peretti will touch some of the most compelling uses of social media, the new wave of brands and native advertising. Some of the other key sessions at SMX East include, how SEO and SEM can help each other, keyword research and copywriting for search success, link building fundamentals, competitive research for SEO, what SEOs should be doing with mobile and much more.
The three days event is one of the best platforms to learn search engine optimization, search engine marketing and social media marketing tactics from some of the whos who of the industry. Special discounts are available for team registrations. SMX aims to create a valuable experience for all the attendees, whether they are veterans or the newbies. Each session perfectly addresses the techniques that attendees need to have in order to improve the performance of their marketing campaign, further added the team member.
Registrations for the event are open at the SMX website. The Workshop only pass can be bought at $ 1,195 while the All Access pass is available at $ 1795. Those who want both the All Access pass and the workshop pass can get it by spending $ 2895. PageTraffic Buzz is the media partner of the event and will be exclusively covering all the sessions of the event. All the updates will be shared with the readers in the official blog of PageTraffic Buzz.
About PageTraffic Buzz
Since 2006 PageTraffic Buzz has been covering news and updates related to the digital marketing industry. Today there are more than 10,000 posts on the portal and around 7000 RSS subscribers. PageTraffic Buzz has been actively participating in major search and social media events in the past, some of which include Pubcon, SEMPO, SMX, Social Media Week, Search engine Strategies, Ad:tech, TechCrunch and several others.

###