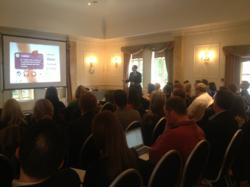 (PRWEB) May 09, 2013
Intergage have been hosting web marketing events to help businesses of all sizes throughout Hampshire, Dorset and the South with their web presence, in particular; social media marketing.
Reaction and take up of Intergages free workshops and seminars has been positive with businesses, from hairdressers to hotels, all complimenting Intergage for their expertise and experience.
As a leading digital marketing agency Intergage are proud to support the growth of local businesses, helping them achieve their business goals through the introduction of web marketing.
Web Marketing Director, Jo Lynes, said: the events weve been running throughout Hampshire and Dorset have been aimed at improving the web marketing knowledge of local businesses.
We wanted to show local firms that social media and content marketing isnt something to be afraid of, but rather an approach to marketing that can yield spectacular results if done well she added.
Intergages offering for Content Marketing has been in development lately, in line with various search engine updates, culminating in their now celebrated 7 Steps to an Optimised Content Marketing Strategy presentation at Careys Manor, Hampshire.
Dozens of businesses attended the Content Marketing presentation which covered all the steps needed for any business to achieve content marketing success, including: