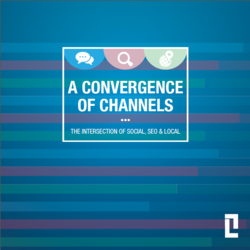 Denver, CO (PRWEB) October 11, 2012
As paths to purchase become less linear and more interconnected across channels, marketers are presented with both challenges and opportunities. Digital marketing agency Location3 Media explores this changing landscape in the companys latest white paper, A Convergence of Channels: Capitalizing on the Intersection of Social, SEO & Local. The white paper provides expert recommendations for campaign integration through the illustration of one consumers journey through the digital space.
The days when an agency or multiple agencies could effectively treat social, local and search as independent services are over. Any strategy that ignores the huge impact channels have on each other isnt going to maximize its performance potential. We have been observing these channels coming together for years and wrote this paper to share the integration techniques weve learned through research, testing and hard work, said Location3 President Alex Porter (@porter32).
Examples of channel convergence include the integration of Google+ recommendations in search results, Google+ Local pages, location-based check-in services and social signals driving search algorithms. A Convergence of Channels demonstrates how to optimize these intersections between social, local search and SEO in order to increase findability and performance for brands in the digital landscape. The white paper provides practical tips along with big-picture strategies while following one consumer traveling from interest to research, recommendation to validation and finally, decision.
Download the free white paper at http://l3m.me/ConvergenceWhitePaper. Location3 Media is committed to promoting ongoing education and knowledge sharing in the digital marketing industry. To learn more about local search or web analytics, also download the informative papers Beyond the Stats: Optimizing Web Performance with Analytics and the local search tips white paper.
For more information about Location3 or the digital marketing industry, contact Angie Pascale: apascale – at – location3.com | 720.881.8528 | @angiepascale.