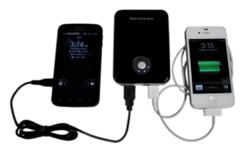 Los Angeles, CA (PRWEB) December 20, 2012
Digital Foci, Inc. (http://www.digitalfoci.com) announced today that it is now shipping the new Battery Porter 5200 and Battery Porter 8000 external battery charger kits. A convenient solution to those who are always on the go, these portable battery chargers help instantly extend the battery life of portable devices including Tablets, Smartphones, Mobile Phones, MP3s, GPS devices, and Game Consoles anytime, anywhere.
Utilize Battery Porter to store and supply extra power for extended usage of Tablets and Smartphones. They are extremely helpful when users are on a long flight or in a location without access to power outlets. During power outages and other emergencies they will be invaluable for people to keep lines of communication open.
Battery Porter 5200