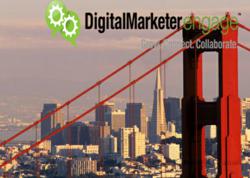 Austin, TX (PRWEB) January 10, 2013
Digital Marketer Engage has announced that they will be hosting the kickoff event for the 2013 Traffic and Conversion Summit, presented by Digital Marketer. The event will take place from 7:00 to 10:00 p.m. on January 17, 2013, at Jillians Billiards Club of San Francisco (75 Fourth Street Suite 1070).
The Thursday night gathering will precede the 2013 Traffic and Conversion Summit, which happens January 18-20, 2013 at the Marriot Marquis San Francisco. With a collection of speakers including William Shatner and Guy Kawasaki, the Summit promises to be Digital Marketers biggest and best live event ever.
The meet up is available for any attendee of the Traffic and Conversion Summit. Pre-registration for the Summit will be from 2:00 to 8:00 p.m. at the Marriot Marquis, and Jillians is next door to the hotel. Participants are encouraged to join DM Engage for drinks, appetizers, and networking along with music and contests.
The DM Engage meet up will feature a panel of experts in digital marketing including David Murray from Bravos hit reality TV show Start-Ups: Silicon Valley. Entrepreneur, engineer, and founder of GoalSponsors, David has served as an executive for two 40-person firms, and has held leadership roles at both Google and Atari. He will discuss growing a product with more than SEO and viral tactics.
Launched in May 2012, Digital Marketer Engage sought to take the sense of community built through Digital Marketers creation and bring it to the local market. Cities all over the country (and the world) have started DM Engage chapters not only to review new Digital Marketer content, but listen to speakers, network, and create a working collaborative community. DM Engage seeks to create a local support system for digital marketers and nurture an environment of growth, connection and collaboration.
Digital Marketer releases informational and educational materials to help businesses and entrepreneurs gain insight and information on the trends, data, and strategies that can take them to the top of their industry. Through their RAW Training courses, strategic plans, blogs, newsletters, site reviews, and Special Reports, Digital Marketer supercharges every single marketing campaign it touches. For more information, visit DigitalMarketer.com.
To find the full schedule of events and keep up to date with the happenings leading up to the January 18-20 dates, check out Digital Marketers website, blog, and subscription email lists. Specific details on the 2013 Traffic and Conversion Summit can be found at TrafficandConversionSummit.com.