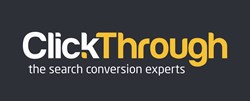 (PRWEB UK) 12 April 2013
Digital marketing agency ClickThrough has relaunched its website – after expanding to offer web design services.
The new site uses responsive web design (making it suitable for mobile, tablet and desktop users) and contains a wealth of digital marketing information, alongside details of ClickThroughs services.
ClickThrough Marketing, which manages search strategies for large clients including Peugeot, Dunelm Mill and Halfords Autocentre, has provided UK-based SEO services and PPC management since 2004.
After a successful 2012, in which ClickThrough launched Europes first free AdWords reporting tool, BidCops, the company expanded to create a new web design and development team.
ClickThroughs new web design department is headed by Alan Rowe, a developer with more than 15 years experience. Alan has previously worked on sites for menswear retailer Atoo and sustainable building specialists Various Monks.
Phil Robinson, ClickThroughs commercial director, explained: We had a great end to last year – and the icing on the cake was bringing in Alan and his team to provide expert web design and development services.
Were really excited about the new website: it underlines the continued growth of the company, and has been a major, integrated project.
Were also excited because the new site uses responsive web design, so were truly ready for a mobile future.
Alan said: Too many web developers focus on making websites that look great on screen but dont match up to expectations when it comes to conversions or search engine rankings.
Weve built the new ClickThrough site with SEO and conversion optimisation as its founding principles, just as we do with our clients sites. The result looks fantastic, weve had great feedback from user experience tests, and the site is expertly optimised to drive rankings, traffic and leads.
Alan added that ClickThrough decided to use responsive web design as both mobile and tablet usage showed huge rises in 2012.
Using responsive web design means all users are seeing the same content, no matter whether theyre accessing it from a desktop, mobile, tablet or television, Alan said. Mobile is so much more than a fad: its important to be optimised for mobile users now or face missing out.
The web design team will integrate with ClickThroughs existing Google certified PPC staff, conversion rate experts, and Analytics-qualified SEO consultants to provide clients with beautiful websites built with search and sales in mind.
The new site reflects the extended scope of ClickThroughs growing digital marketing services which now include web design, web development, landing page design, advertising banner creation, and online PR.
The relaunch has seen popular pages, including ClickThroughs Internet Marketing News and Internet Marketing Blog, redesigned with a brighter, clearer interface.
Both the news and blog pages are managed by ClickThroughs in-house content team, which has also expanded in the past six months. In the summer, head of content Alistair Harris, a double-award-winning journalist, and senior copywriter Oliver Pyper were joined by Jack Adams, who holds both the NCTJ certificate and a degree in journalism, and Martin Boonham, a graduate recruit with the NCTJ qualification and a Masters in journalism. The company has since been used by PR Web as an online PR case study.
The ClickThrough PPC management team is fully accredited by Kenshoo, the leading bid management software provider, and features nine staff with Google AdWords qualifications and five with Bing accreditation.
ClickThroughs SEO experts include 12 staff with Google Analytics individual qualifications

For more on SEO, PPC, content marketing and web design from ClickThrough Marketing, visit the relaunched website at http://www.clickthrough-marketing.com
ENDS
Notes to editors:
For more information, please contact: Oliver Pyper, copywriter, ClickThrough Marketing.

Telephone: +44 (0)1543 410 014

Email: opyper(at)clickthrough-marketing(dot)com
About ClickThrough Marketing:
ClickThrough Marketing is a UK digital marketing agency, providing SEO, PPC, content marketing, web design and web development services. ClickThrough is a trusted agency of experts, which delivers results for large companies including Peugeot, Dunelm Mill, Halfords Autocentre and The Healthcounter. ClickThroughs staff includes 12 Google certified Analytics experts, nine certified Google AdWords experts, Bing Ads certified consultants and three qualified journalists. ClickThrough is also a Kenshoo Enterprise Pro Agency. Since 2004, the company has helped clients in the UK, USA and Europe reach new customers using proven, ethical search marketing know-how, and our own unique technology. ClickThrough is committed to providing honest, actionable Internet marketing advice, with results-driven services for SEO, PPC, web design and online PR. Call +44(0)808 231 1970 or visit http://www.clickthrough-marketing.com for more information on digital marketing with ClickThrough.