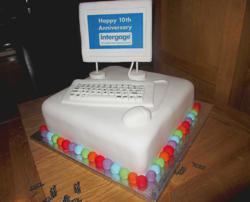 (PRWEB) February 12, 2013
Digital marketing agency Intergage is embarking on a new era as it celebrates the brands 10th anniversary.
Over the last decade Intergage has evolved from a software house to a digital marketing company to a strategic marketing partner.
Companies are now calling on Intergage to provide complete online and offline strategic marketing solutions.
Managing Director Paul Tansey said: We have had experience with working with SMEs for well over a decade now.
And when it comes to marketing, what they really need is a partner. They need strategic solutions.
We look into the whole marketing problem not just digital. We are increasing our focus on strategic marketing, delivered by high calibre people in client-facing roles.
Intergage has well over a decade of experience. Although the brand is 10 years old, the business has been in existence for 13 years.
Intergage celebrated its 10th anniversary on the 1st February 2013. The customer-centric agency originated in 2000 as Creative Sales Solutions, re-branding in 2003.
The last decade has seen Intergage grow from a web content management provider into a full service agency through the growth of its web marketing team and acquisition of Tasty Marketing.
Intergage can now meet the needs of clients in all areas of marketing from online to offline thanks to its growth and diversification.
Clients are enjoying greater return on their marketing investment as Intergage delivers great results in services including: