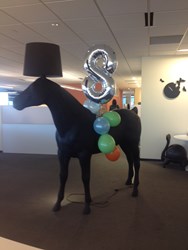 Minneapolis, MN (PRWEB) November 04, 2013
Nina Hale, Inc. celebrates its 8th anniversary as a premier digital marketing agency this week.
Nina Hale, founder & CEO, started Nina Hale, Inc. in 2005 as a solo consultancy. The agency now employs 36 people and manages $ 20 million per year in media fees. With a passion for analytics-driven search marketing and her reputation as a thought leader in the digital marketing world, Hale's ability to deliver excellent results for clients continues to drive company growth.
I firmly believe as a company we are only as good as the results we deliver for our clients," said Hale. "I attribute our success to our partnerships with our clients and the talent of our team.
Nina Hale, Inc., based in Minneapolis, has conducted business with, and exceeded expectations for more than 100 companies and agency partners. The agency attributes its ongoing success to its top-of-the-industry team and excellent leadership, coupled with a client-focused, strategic approach to digital marketing. The company offers solutions in ecommerce strategy, search engine optimization, paid placement, social media, analytics, content strategy and copywriting.
Nina Hale, Inc. is a search and social media agency with an analytical, measured process for growing brand awareness and revenue through online channels. The agency was listed in Inc. Magazines 5000 Fastest Growing Companies in 2013, and was included in the Minneapolis/St. Paul Business Journals Best Places to Work for the third year in a row. The agency creates digital marketing strategies with execution of SEO, pay-per-click, social media, analytics and content marketing. Nina Hale, Inc. was established in 2005 and is a nationally certified woman-owned business (WBE).