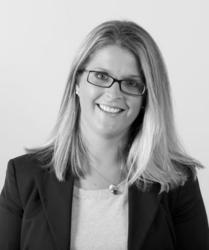 Vancouver, BC (PRWEB) July 11, 2013
6S Marketing is pleased to announce the promotion of account executive Lyn Wilson to partner. Formerly a lead digital strategist at 6S, Lyn has developed and executed digital marketing initiatives for many companies across North America, delivering strategic direction and reporting insights to achieve ROI. Her clients include internationally recognized brands like HSBC, Expedia Cruise Ship Centers, CBC Music and Hockey Canada.
An honours graduate of the Multimedia Design program at Northumbria University, Lyn began her career in the UK. She utilized her training in multimedia design to explore search engine optimization (SEO), cost-per-click (CPC) and analytics for a strategic digital company in England. After moving to Canada, Lyn joined 6S Marketing in 2005, her technical roots allowing her to excel in account management. She has since represented the company through national speaking engagements on social media, digital marketing and web analytics, and often lectures at local universities.
Says 6S Marketing President, Chris Breikss; "In a recent staff survey, we discovered that 76% of our staff are female, and we are very excited to be promoting a female to the senior level of management and to our leadership team."
Currently, Lyn's role at 6S is focused on business development across Canada and internationally. Her partnership furthers our commitment to delivering superior, results-oriented digital marketing strategies to our clients.
"Having been with 6S Marketing for eight years, I am delighted to join John Blown and Chris Breikss as a partner," says Carolyn (Lyn) Dianne Wilson. "My commitment to the company stems from working every day in an environment that fosters leading digital strategy, but more importantly working alongside an excellent team that is truly committed to the needs of our clients."