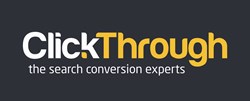 (PRWEB UK) 8 August 2013
ClickThrough Marketing has donated cash to Midlands Air Ambulance Charity, after it helped a staff members son out of a scrape in Lichfield.
Alan Rowe, head of web development at the digital marketing firm, relied on Midland Air Ambulances swift response when his son, Laurie, suffered a fall at a local library.
The life-saving charity flew in to take Laurie Rowe to the University Hospital of North Staffordshire, where he was treated for cuts and later made a full recovery.
Coincidentally, ClickThrough Marketing had already chosen Midlands Air Ambulance Charity as beneficiary for proceeds from its Future of Search roundtable event.
The event, held in June, raised