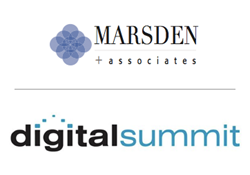 Atlanta, GA (PRWEB) May 20, 2014
Anne Marsden will present 5 Tips for Winning B2B Videos as part of a panel discussing Online Video Views: Secrets to Viral Success.
Date and Time: Wednesday, May 21, 1:15 – 2:15, on the Theater Stage
Digital Marketing Forum 2014 is one of the largest gatherings of digital marketing talent in the Southeast, drawing some 2000 attendees to the combination of speakers, panels and workshops. The summit has attracted key digital marketing and technology experts like Stephen Wozniak, co-founder of Apple, and thought leaders and executives from Twitter, Coca-Cola, Yahoo, Bing, Adobe, Redfish, IBM, Pardot, Silverpop, and more.
One of the key challenges for marketers is how to leverage video to accelerate their brand and connect with prospects.
Video is a hot topic for B2B companies, but there remains some hesitancy and confusion in the community about the best way to leverage this content tool to drive sales. One of the first steps to demystifying video for B2B is to use a similar process to creating all content: define the audience and end goal, create the story, and establish a distribution strategy. Then what remains is choosing an execution style that fits the story and budget. Not all video projects need expensive techniques. But some warrant the investment. Understanding the difference is where great videos can be created that connect with prospects, and show a return, said Marsden.
For more information on the Digital Marketing Summit 2014, click here.
A limited amount of tickets may still be available.
About Anne Marsden:

CEO, Marsden & Associates
Anne Marsden has walked both sides of the marketing aisle as client and agency. Having led marketing organizations for Fortune 500 and technology start-ups, she launched Marsden & Associates to bring a new brand of results-focused marketing services to B2B companies. Recognizing the fundamental shift in buyer behaviors spurred by new digital realities, M&A helps clients identify and develop both the the messages and the channels to engage prospects throughout their journey from discovery to evaluation to purchase to advocacy.
About Marsden & Associates:

Marsden & Associates is a leading B2B digital marketing agency that focuses sharply on marketing that sells. We bring together strategy, consulting, content creation, and social media services to help clients around the globe accelerate their brand, connect with prospects, and nurture leads. Our key service areas include marketing strategy, brand development, lead generation, inbound and digital marketing (HubSpot Gold Partner), content marketing, PR, social media, and sales transformation and effectiveness.
Our agency is located in the Southeast and our clients, ranging from technology start-ups to Global Fortune 500s, are located around the world.