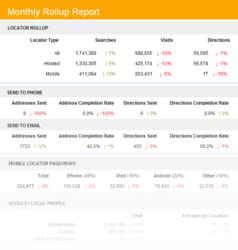 ANAHEIM, CA (PRWEB) April 22, 2013
Where 2 Get It, an award-winning and industry leading provider of location based digital marketing solutions for more than 550 national brands, has announced a significant update to their Location-Based Digital Marketing Analytics & Reports Solution.
In addition to all existing Business Locator and Local Landing Pages report metrics, the updated Roll-Up reports will now provide additional data for brands including key Business Claiming metrics such as: Foursquare Checkins and Yelp User Actions for all locations or average per location. The new Roll-Up reports also retain the color-coded monthly percent change fields next to each metric to allow for an easy-to-read, quick-glance indication of how your business location(s) are performing this month compared to the previous month.
Where 2 Get It Product Manager Alex Hsu points to increased visibility as the main impetus behind the updates. Hsu states: The updated Roll-Up email report will be one of many features to allow our clients to monitor their local profiles and performance across all their digital marketing activities.
Where 2 Get It was founded in 1997 and has since grown into an industry-leading provider of location-based digital marketing solutions powering more than 550 brands. Serving more than 500,000 brick-and-mortar locations, Where 2 Get It has channel strength that reaches millions of consumers around the world. Some of their product offerings include both desktop and mobile versions of: Business Locator, Local Landing Pages, Business Claiming, Local Social Manager as well as comprehensive Analytics and Reports Solution.
###
Where2GetIt.com

Facebook.com/Where2GetIt

Twitter.com/Where2GetIt

LinkedIn.com/Company/Where2GetIt