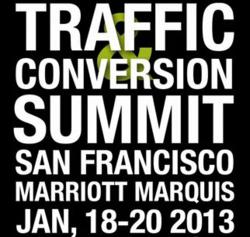 Austin, TX (PRWEB) November 11, 2012
Digital marketing technology is constantly changing, said a recent online article from Digital Marketer, and in order to stay on top of trends and techniques, marketers know they need to devote a large portion of their time to learning and implementing new strategies. Digital Marketer will be holding the 2013 Traffic and Conversion Summit on January 18-20, 2013 in San Francisco, California.
According to the article, smart marketers realize that allowing the industry to pass them by can be deadly to their business opportunities. The 2013 Traffic and Conversion Summit will work to help people avoid that, and stay up-to-date with the trends that keep marketing moving.
Email deliverability is an example of the changes Digital Marketer will be discussing at the Summit. The standards that are being developed to alter email subscription lists could literally turn a list into a ghost town, said the article. The Summit will address everything there is to know about maintaining quality and effectiveness.
Also, quality score alterations for websites like Facebook and Google could render outbound marketing efforts obsolete, and Digital Marketer wants to keep everyone informed on the best practices. Those mega-sites are always tinkering with their algorithms, said the article, and staying on top of the information is the only way to continue success, or grab it in the first place.
The article said the greatest part of the Traffic and Conversion Summit is the access to actual professional marketing minds. Attendees will get to rub shoulders with experts who deal with these issues day in and day out, and will also be able to meet peers who may be experiencing the same exact situations. Theres no better place for networking and finding potential business partners than an online marketing event like the Traffic and Conversion Summit.
The event doesnt involve researchers or journalists sharing data on concepts they dont fully understand or use every day, the article said. Theres nothing but qualified experts who know marketing inside and out, and the Summit encourages interaction and engagement between attendees and organizers. Its one of the best chances to further a marketing education without being lectured, said the article.
Digital Marketer holds live events and releases informational and educational materials to help businesses and entrepreneurs gain insight and information on the trends, data, and strategies that can take them to the top of their industry. Through their RAW Training courses, strategic plans, blogs, newsletters, site reviews, live events and Special Reports, Digital Marketer supercharges every single marketing campaign it touches. For more information, visit DigitalMarketer.com.
The online marketing world has reached global proportions, and the article said everyone involved in the industry holds the potential to become a success beyond what they thought possible. The 2013 Traffic and Conversion Summit will share the digital marketing technology information that can drive that success and lead even more opportunities.